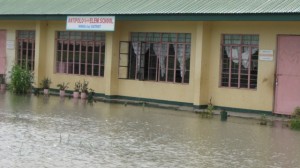 The number of casualties from the floods and landslides brought by Typhoon Pepeng (Parma) has already reached 629 after more bodies were recovered, majority of which came from the landslide-hit areas of the Cordillera Region, and the flooded province of Pangasinan.
The National Disaster Coordinating Council said, 185 were injured, and 52 remain missing.
The number of affected has also reached more than 600,000 families or 3.1 million persons in 4,585  villages in Regions I, II, III, IV-A, V, VI, NCR and CAR.
Government officials estimated total damage at P8.1 billion, including P6.5 billion in agricultural losses.
The worst-hit were the severely flooded Pangasinan and the landslide-hit provinces of Benguet, La Union and Mt. Province, including Baguio City.
In the Cordillera Administrative Region alone, at least 287 people were confirmed dead. Baguio City on the other hand was totally cut off from the rest of Luzon after landslides blocked major roads, jacking up the prices of vegetables coming from northern Luzon.
Meantime, 80% of Pangasinan was inundated in floodwater, submerging rice fields, and forcing over 50,000 people to evacuate.
Pepeng hit the Philippines just eight days after Ondoy caused the country's worst flooding in four decades, killing 341 people and affecting more than 880,175 families of 4.3 million persons. Pepeng, which stayed for 10 days in the country, also dropped more rain on Metro Manila that slowed the cleanup and made conditions worse.
Appeal for assistance
An increasing number of families affected by the two recent typhoons are appealing for assistance from the Citizens' Disaster Response Center and its regional centers.
Donations for the affected families may be sent through the following drop-off centers:
Citizens' Disaster Response Center (CDRC)
72-A Times St., West Triangle Homes, Quezon City.
Tel. (632) 929-9820
Fax (632) 929-9822
Dollar Account:
Account Name:  Citizens' Disaster Response Center
Account Number:  2-63600158-3
Bank:  Metrobank, Examiner Branch
Bank Address: Corner Examiner and Quezon Avenue, West Triangle, Quezon City, Philippines
Swift Code: MBTCPHMM
Peso Account:
Account Name:  Citizens' Disaster Response Center
Account Number:  3-63600741-3
Bank:  Metrobank, Examiner Branch
Bank Address: Corner Examiner and Quezon Avenue, West Triangle, Quezon City, Philippines
Cordillera Disaster Response and Development Services
119 Purok 1, Guisad Surong, Brgy Guisad, Baguio City
Tel. (074) 4426108
Ilocos Center for Research, Empowerment and Development (ICRED)
49 P. Gomez St., Brgy 11, Sta. Balbina, 2900 Laoag City
Tel. (077) 7731031
Alay Bayan, Inc. (ABI)
54 Rue de Paree St., L&S Subdivision, Angeles City
Tel. (045) 3043040
Center for Relief and Rehabilitation Services – Cagayan Valley (CRRS-CV)
27-B Pattaui St., Ugac Norte, Tuguegarao City
Tel. (078) 8462758
References:
NDCC
PAGASA
The Associated Press
Philippine Daily Inquirer
The Philippine Star
GMA News
Center for Relief and Rehabilitation Services – Cagayan Valley (CRRS-CV)
Tarabang Para sa Bicol (TABI)
Ilocos Center for Research, Empowerment and Development (ICRED)
Cordillera Disaster Response and Development Services
Alay Bayan Inc. (ABI)