Some 1,097 children and 502 adults in 10 communities in Quezon City, Muntinlupa, Manila and Marikina severely affected by TS Ondoy are now organized for child protection and disaster preparedness.
This was made possible through the project "Rebuilding Lives After Ondoy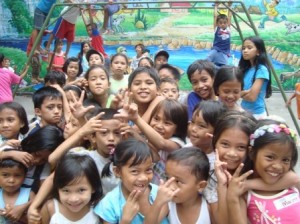 and Pepeng: A Contribution to Children's Recovery and Disaster Risk Reduction" funded by UNICEF and implemented by Citizens' Disaster Response Center (CDRC).
CDRC's Deputy Executive Director, Carlos Padolina said, the project is part of the organization's step in instituting special programs addressing the needs not just of adults but also of children in disaster situations particularly during typhoons.
Both TS Ondoy and typhoon Pepeng have left indelible impacts on children, Padolina said. "There were children among the fatalities as there were also children crying out for help on their roofs and waiting desperately to be rescued during the back-to-back typhoons." The children's already fragile health and education situation was further worsened during these disasters, he said.
"There have been reported symptoms of trauma among the children in typhoon-hit areas. These ranged from lack of sleep, rousing from sleep and catching breath as if drowning, to fear of water, and fear of darkness," Padolina explained.
The three-month project involved two main components: first, community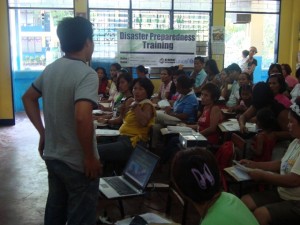 capability-building on disaster preparedness and child protection; and second, conduct of special activities that will provide for the basic education and psychosocial needs of children and enhance their participation in community-based and child-focused disaster management, Padolina said.
Capability building activities for the adults included Child-focused Trainings on Evacuation Center Management, Disaster Management, Disaster Preparedness, Child Protection in Emergencies, and Convention on the Rights of the Child.
Activities for the children were the following: Disaster Busters Children's Art Camp, Structured Play Sessions, and Disaster Management Orientation for Kids.
Padolina said the structured play sessions were done to provide a venue for children to express their experiences, feelings and knowledge in a fun and healing way. Meantime, "through the Disaster Management Orientation for Kids, the children learned the basic concepts on disaster management and what they can do or contribute as children in preparing their families and communities for disasters," he added.
"One of the highlights of the project is the Art Camp which provided a way for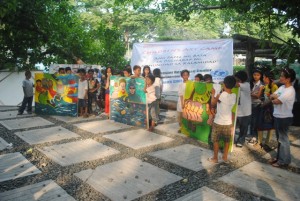 sensitive issues to be addressed in a way which is affirmative and easily accessible to children. A total of 11 art workshop groups were organized for children to choose from— Basic Photography, Mask Making, Stencil Making, Song Writing, Poetry Writing, Guitar Lessons, Theater Arts 1 and 2, and Visual Arts 1, 2 and 3," Padolina said.
The play kits given by UNICEF were utilized during these activities, especially the story books and art materials. The Play kits were then left in the care of the community, usually in the Community Day Care Centers.
CDRC sought the help of child psychologists and experts in child rights and child protection to ensure that it is on the right track. CDRC also sought the help of trained volunteers from the target communities and other organizations.
Padolina said that the project has won the praise of beneficiary communities and has provided an opportunity for the community members, children and adults alike, to unite for a common purpose. "The presence of CDRC and UNICEF will be felt in these areas for years."