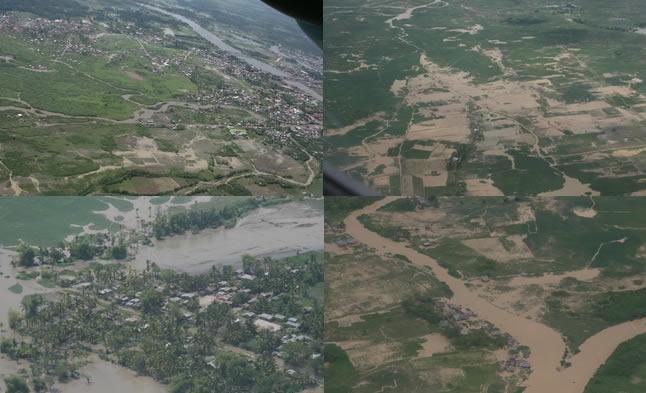 Heavy rains that started on the first week of June caused floods in Central Mindanao affecting 11 towns of Maguindanao and Cotabato City.
The unceasing blockade of almost 8 hectares water hyacinth in Rio Grande De Mindanao caused the water in the river to rise and submerge majority of barangays in Cotabato City and nearby municipalities. Of the 37 barangays in Cotabato City, 27 barangays were already affected which prompted the residents to leave and stay in evacuation centers.
As of June 12, 2011, the Department of Social Welfare and Development-XII has documented 1,435 number of affected families from 14 identified evacuation centers in Cotabato City and 8, 963 number of affected families from 23 barangays outside evacuation centers. This totaled to 10, 398 families affected in Cotabato City.
On their updated report, the Office of Civil Defense (OCD) and DSWD in ARMM have reported that close to 20,000 families evacuated due to flooding. These families are from 77 barangays of 11 towns in Maguindanao. Among the towns badly affected are Sultan Kudarat, Sultan Mastura, Sultan sa Barongis, Paglat, Pagalungan, Datu Abdullah Sangki, Datu Montawal and Datu Odin Sinsuat.
Agricultural damage has reached 332 Million owned by 4,469 farmers. Thus, the regional government already declare State of Calamity for the affected areas.
Relief assistance extended by the city/provincial government and other line agencies cannot suffice the immediate needs of evacuees due to prolonged inundation.
Appeal for Assistance

The affected families are in need of food and non-food items such as:
-Food (rice, sugar, coffee, etc)
-Non-food (sleeping mats, blankets, plastic sheets, etc)
Source:
Kawagib (Alliance for the Advancement of Moro Human Rights)
More photos here