235,867 families (1,230,022 persons) in 24 provinces in 8 regions were badly affected by continuous rains, floodings and landslides triggered by the northeast monsoon affecting Northern and Central Luzon, and the tail-end of a cold front affecting Southern Luzon, Visayas and Mindanao, according to the 28th situation report released by the National Disaster Risk Reduction and Management Council (NDRRMC).
Flooding/ladslide-hit regions include Regions IV-B, V, VII, VIII, X, XI, CARAGA and ARMM. 3 regions with the most number of affected population are CARAGA (112,096 families), Region VIII (54,179 families), and Region V (38,272 families).
The number of casualties reached 48. Of this, 33 were killed, 8 were injured and 7 remain missing. In CARAGA alone, 20 were reported killed.
Damages to Agriculture, Infrastructure and Private Properties amounted to Php876,210,117.19.
25 evacuation centers in Albay and 47 in Region VIII remain open, serving 3,859 families.
Department of Social Welfare and Development, Department of Health, and other government agencies and Nongovernment Organizations have undertaken initial disaster relief and response activities.
NDRRMC, though, pointed out the need for assistance not just for short term, but long-term needs.
Table 1. Affected population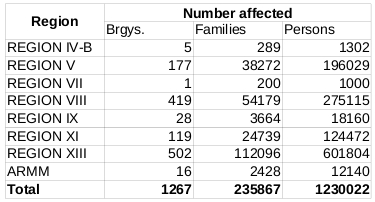 Source: NDRRMC
Appeal for support:
Donations for the affected families may be sent through the Citizens' Disaster Response Center at 72-A Times St., West Triangle Homes, Quezon City. Concerned individuals and donors can easily reach us at (632) 929-9822 / (632) 929-9820.
Source:
Situation Report No. 28: Effects of Continuous Rains Due to Tail-End of a Cold Front in Regions IV-B, V, VII, VIII, X, XI, CARAGA, and ARMM / by the National Disaster Risk Reduction and Management Council / January 11, 2011
For more information, visit NDRRMC Website: http://www.ndcc.gov.ph/