Heavy rains along the eastern Philippine seaboard which started in December 2010 have now affected 399, 237 families or 2,001,221 individuals, according to government reports posted on February 1, 2011.
Casualties have reached 110 — 75 dead, 13 injured and 22 missing — due to landslides and flash floods. A total of 5,729 houses were damaged, 1,116 of which were totally knocked down. Initial reports from the government showed that damage to agriculture, infrastructure and private properties have now reached at least PhP2 Billion.
The abnormal heavy showers, which government sources said will peak in February, inundated more than 2,208 villages in 190 municipalities all over 10 regions. Hardest hit were the provinces along the eastern shoreline of the southern island of Mindanao.
CARAGA Region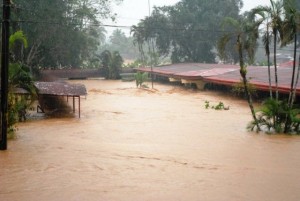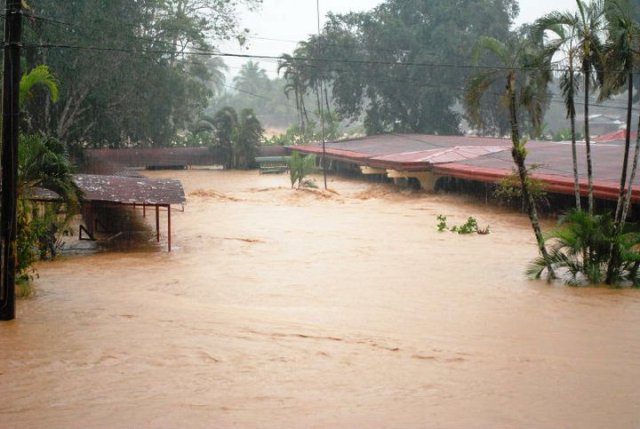 Since late December 2010, torrential rains poured down the region affecting quite a number of families. The incident caused flashfloods over vast areas, ravaging houses, livestock, properties and agricultural products.
The recent flashfloods hit almost all municipalities of the region, especially the lowlying areas. The overflowing of rivers resulted to the damage of the newly planted rice fields as rice planting season started last month. With predominantly 80% of farmers' population in the region, the economic situation and food security are now affected.
A state of calamity has been declared in Surigao del Norte, Surigao del Sur, Agusan del Sur and Butuan City in Agusan del Norte after landslides and floods swamped farmlands, destroyed bridges and roads, and toppled power lines.
Caraga has been listed with the most number of populations affected by the recent floods.
Region V
In the Bicol Region, affected communities covered the municipalities of Malinao, Polangui, Bacacay, Jovellar, Daraga, Camalig, Polangui, Libon, Malilipot, Manito, Sto Domingo, Tiwi, Rapurapu, Tabaco City and Legaspi City in Albay Province; the municipalities of Castilla, Bulan, Casiguran, Juban, Magallanes, and Prieto Diaz in Sorsogon Province; and the island of Siruma in Camarines Sur.
Batches of evacuees trooped to safer shelters starting December 24, 2010 as preemptive evacuation were undertaken by the local government units. The Albay PDRRMC characterized the weather condition as a "state of continuing disaster", and the entire province declared under a state of calamity. The estimated damage to agriculture in Albay and Sorsogon amounted to PhP 17,408,350.19, and PhP88,750,000.00 to infrastructure for Albay, Sorsogon and Camarines Sur. As of today, majority of evacuees have decamped, however, the call for relief assistance remains as livelihood activities are far from normal in these communities.
Region VII
Amidst revelry of the Santo Niño Atiatihan festival in Kalibo Aklan, that supposed to bring income earning opportunities to most of the marginalized sectors in the town, almost 3,000 houses located at C. Laserna Street, Poblacion and Bakhaw Sur, Kalibo Aklan and at the adjacent Barangay of Laguinbanwa East, Bubog, Camansi, and Bulwang of Numancia town submerged under water in the eve of January 11, 2011 until the dawn of January 12, 2011, and at present they lost the opportunity to earn income as they are preoccupied with re organizing their households and keeping themselves vigilant over the recurrence of flood.
Residents along the Aklan River bank had vacated their houses to sought refuge at the town plaza, where the center of atiatihan festivities is being celebrated.
The flood was noticed to be at its onset at around 9:00 pm of January 11, 2011 and started to subside at around 2:00 am January 12, 2011. The water had almost reached the ceiling of the houses along C. Laserna St., Poblacion and Bakhaw Sur, Kalibo Aklan. It was estimated by the residents that the flood had reached more than five feet in deep.
The residents had evacuated at the town plaza and in the houses located at the higher ground within the Barangay. Most of the residents in the affected barangays have saved nothing when they evacuated. The flood occurred so suddenly, which they have no indication that the calamity is approaching like what happened in June 21, 2008 Typhoon Frank, though the residents are vigilant.
No casualties reported because most of the residents were awake when the water started to rise as most of them are viewing activities at the town plaza of Kalibo when the residents relay messages among its other that the water had started to rise at the Aklan River.
As of January 12, 2011, 9 am, the residents were already able to return to their houses, however, their economic activities were disrupted as they have to attend to reorganize their belongings and household. All belongings of the residents were soaked under water leaving them nothing to survive. Thirty five (35) houses were identified to be partially damaged at the C. Laserna St., Poblacion Kalibo Aklan. Since most of the male populace in the Poblacion of Kalibo are working away from home (migrant Sakadas and construction workers) women bear the burden of vacating their children and belongings. The reason why most of them were not able to save dry clothes for their family.
Though the residents were able to return to their houses and had started to reorganize their belongings, they are now confronted with the major problem of hunger. They could not cook food for their family as everything was soaked and they have nothing to cook at all. Most the marginalized victims are vendors and seasonal workers, with that they have no savings to withdraw.
It is projected that hunger situation would prevail because the residents will be occupied with their monitoring activities for possible recurrence of flood due to continuous rainfall in the town of Libacao and Madalag.
The flood was attributed to the continuous rainfall in the hinters' towns of Madalag and Libacao. It was reported that heavy rains had been continuous occurred since last week of December 2010. Other factors identified by the Aklan River Development Council of Aklan were the recurrence of sand bars in the Aklan River, which prevented the continuous flow of the water. Sand bars were identified to be caused by the organic matters coming from the hinterland of Libacao and Madalag.
Region VIII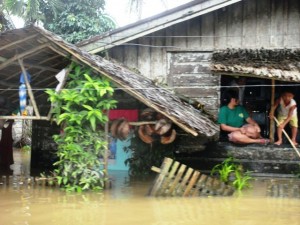 Incessant rains which started in mid December 2010 up until the present has triggered flooding and land slides throughout Samar and Leyte. Heaviest hit are at least 10 municipalities in Northern Samar, 3 in Western Samar, 9 in Eastern Samar and 3 in Southern Leyte.
Northern Samar was placed under a state of calamity as heavy rains continued to beset the region. According to Governor Paul Daza, total number of affected families from Northern Samar is pegged Flooded town square at 43, 182,199 families and at least 207,000 individuals. Damage to infrastructure has already reached 99 million.
Jipapad, Dolores, Oras and Maslog towns in Eastern Samar remain under floodwaters. According to the Office of Civil Defense, the number of affected families reached 11,395 or 57,901 persons as of January 10. The aforementioned families come from 117 barangays of the nine municipalities most heavily affected by the flooding. These are the towns of Jipapad, Dolores, Oras, Canavid, Taft, Maslog, San Julian, Salcedo, and Balangkayan. The flooding in the town of Dolores also caused the death of a 6 year old child.
Initial assessment conducted by the Eastern Samar PDRRMC estimated damage to agriculture at Php 1,189,500 in crops and more than Php 13 million in rice. The PDRRMC report, signed by Governor Conrado Nicart, Jr. showed an estimated damage to infrastructure at Php 94 million.
Jipapad town recorded the most number of affected families with 2,403 and Oras with 1,561 affected families. The Jipapad local risk reduction management office claimed that the entire 13 barangays of Jipapad town is greatly distressed. Most residents have evacuated to their municipal building and church that is located in an elevated area. Estimated damage to agriculture is at least Php 7 million.
Mayor Delia Monleon revealed that the allocate calamity fund in her municipality worth Php 500,000.00 had already been depleted due to the flooding which started in mid December 2010. Furthermore, the provincial government of Eastern Samar has  extended assistance worth Php 200,000 that was easily consumed.
In Southern Leyte, Governor Damian Mercado ordered the evacuation of people living in disasterprone areas after nonstop rains sent mud crashing down houses from a mountain in St. Bernard town, killing three children. Two drowning victims were reported. Saint Bernard has been declared under state of calamity.
The Office of Civil Defense and Regional Disaster Risk Reduction Management Council is focusing on search and rescue operations but with limitations in the far flung communities.
Region IX
San Jose is identified as a floodprone barangay of Tambulig municipality  (Zamboanga del Norte). The barangay is located at the center of the foot of the municipality near the coastline of Panguil Bay and is surrounded by two rivers, the Lower Usugan river and Dipolo river. Topographically, San Jose is flat, while most of its land area is cultivated to fishpond.
The residents' vulnerability is reflected on their economic condition. The local government claims that almost all of the households are living below the poverty line, Majority of the people are engaged in aquaculture and rice production. When typhoons Ondoy and Peping hit the country in 2009, the storms brought continuous heavy rainfall even in Zamboanga Peninsula and Misamis Occidental, causing waters from the two rivers to overflow almost submerging l the 7 sitios of San Jose for a period of 5 days. The flood aftermath had caused tremendous devastation to farm lands, crop production and properties. Houses which are mostly made of light materials were easily damaged.
Continuous rains since December 2010 have again caused the waters of Lower Usugan and Dipolo rivers to rise, flooding all the 7 sitios of San Jose. Many families crossed the muddy waters using bamboo rafts to evacuate to places where the water level is not so high. Almost all of their belongings are damaged by the flood. Some farm animals were drowned as the waters rapidly rose late at night on January 5. A large portion of the rice fields and fishponds are mostly destroyed by the natural disaster. It was only on January 10 that the waters have subsided.
Region X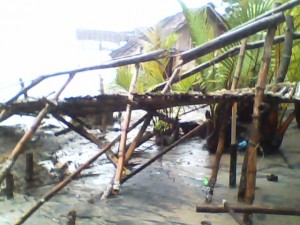 Around 5,000 families in Lanao del Norte were forced to evacuate their homes due to flash floods caused by moderate to heavy rains which started December 29. Some 1,267 families or 6,400 people in Lala, Baroy and Tubod towns have fled their homes due to floods. A 6yearold girl drowned as raging floodwaters swept her family's home in Barangay Sagadan in Baroy.
Engulfed by floods were Barangays Rawan, Pendulunan, Matampay Ilaya, Lanipao at Cabasagan in Lala; Upper Sagadan, Rawan Point, and Baroy Dacu in Baroy; and Pigcarangan, Poblacion, Bulod and Cacai Renabor in Tubod.
Region XI
The municipalities of Talaingod and Sto. Tomas in Compostela Valley has been declared under state of calamity.
A 60 year old woman was killed while another was missing in two landslides that hit the gold rich Mt. Diwalwal in Monkayo.
***
Appeal for Support
CDRC and its local partners intend to assist the families affected by the floods and landslides, particularly the most vulnerable sectors. The response is aimed at helping the victims cope up with the situation and prevent the further deterioration of their condition.
The victims have expressed several needs during this emergency situation. Among the identified priority needs which CDRC and the partners plan to respond to are:
o Food provisions (rice, dried fish, monggo beans, etc)
o Nonfood item (laundry soap)
Donations may be sent through the Citizens' Disaster Response Center at 72-A Times St., West Triangle Homes, Quezon City. Concerned individuals and donors can easily reach us at (632) 929-9822 / (632) 929-9820. Donations may also be sent through the following bank accounts:
Dollar Account
Account Name:  Citizens' Disaster Response Center
Account Number:  2636-0015-83
Bank:  Metrobank, Examiner Branch
Bank Address: Corner Examiner and Quezon Avenue, West Triangle, Quezon City, Philippines
Swift Code: MBTCPHMM
Peso Account
Account Name:  Citizens' Disaster Response Center
Account Number:  1560-6430-16
Bank:  China Bank, Examiner Branch
Bank Address: Corner Examiner and Quezon Avenue, West Triangle, Quezon City, Philippines