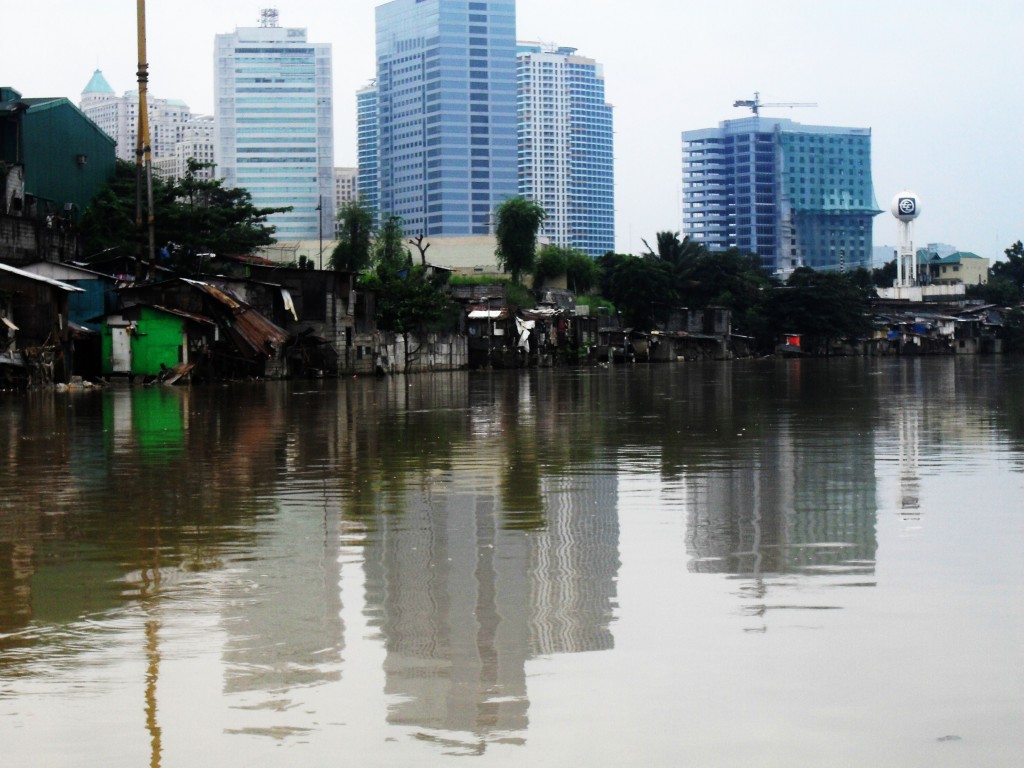 Approximately 50 meters away from the high-rises of Eastwood City, a narrow road leads to Bagumbayan Elementary School, a temporary evacuation center for some 1,080 families, where the Citizens' Disaster Response Center (CDRC) conducted a comprehensive relief delivery operation on Saturday, October 24.
The barangay sits next to a river which overflowed in a matter of hours when various dams were opened at the height of Typhoon Ondoy (Ketsana).
"Water suddenly rose within seconds on the day Typhoon Ondoy hit Metro Manila," said Markus Koth, one of CDRC's volunteers who joined the relief delivery operation. "There was no chance for them to save anything but their lives, which they did by running up the hills next to the shore of the river," he added.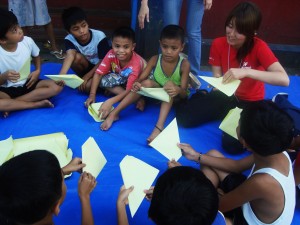 Together with staff from the Civic Force, a Japanese NGO, the Community Response for Enlightenment, Service and Transformation (CREST), various grassroots organizations including Samahang Manggagawa, Samahang Magkakapitbahay, Samahang Ugnayan, and volunteers from the Philippine Atmospheric Geophysi
cal and Astronomical Administration, the Department of Science and Technology, the De La Salle University, Philippine Normal University and University of the Philippines, CDRC set up three centers to facilitate relief delivery, feeding, and psychosocial therapy through visual arts and games as part of its comprehensive approach to disaster management.
Three hundred children were fed porridge or rice congee with hard boiled egg. After the feeding, some 80 children were split into groups for psychosocial therapy.
"Many of the children still get nervous and have a hard time sleeping. Not being able to process what they had to go through, some of them still run up the hill in panic every time the rain gets stronger," said Markus Koth.
Despite the traumatic experience they went through, the children seemed happy as one of the volunteers, Zara Al-Mohdar, led them in song and games.
CDRC was able to provide relief packages to 340 families out of 1,080 who sought assistance. CDRC and its regional centers carefully identified the affected families, taking into account the severity of their losses, their economic capacity, their accessibility to relief services conducted by other agencies, and their willingness to help themselves. The relief packages consisted of 10 kilos of rice, one kilo of mung beans, one kilo of dried fish, one blanket, six meters plastic sheet, six cans of sardines, 1 bar of soap, 500 ml cooking oil, and twelve liters of water.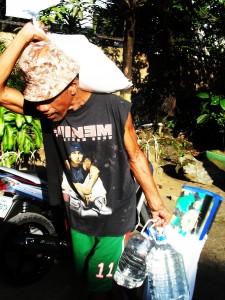 "We are deeply grateful for all the relief assistance because the packs could already tide us for one week," said a teary-eyed Nida Bohol, a local resident whose house was left submerged in the rushing floodwaters. "With no house to go back to, we can only think of how we can survive on a daily basis for now."
Although the floodwaters have already subsided, many families were left homeless and without decent jobs to support themselves. Further relief assistance may be necessary for the long term since most residents' livelihoods have been destroyed.
"What we are providing is but temporary relief assistance. The government should address the root cause of their vulnerabilities, the reason why they have to stay in areas at risk of landslide and flooding in the first place," said Rica de la Cruz, Executive Director of Community Response for Enlightenment, Service and Transformation. "Our government should prioritize the livelihood of the people," she added during her speech.