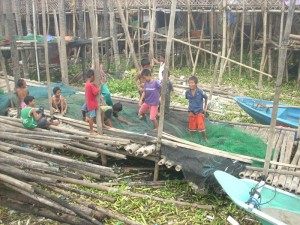 Typhoon "Basyang" (international codename: Conson) forced 1,946 families or 9,511 persons to leave their homes and move to 54 different evacuation centers across Metro Manila, and Regions 3, 4-A and 5.
At least 26 people were confirmed dead, and 44 others remain missing after the typhoon hit the country late Tuesday, pounding the main island of Luzon with maximum gusts of 120 kilometres (74 miles) an hour.
The National Disaster Coordinating Council (NDCC) reported that 30,260 families or 151,351 persons were affected by 'Basyang' in 408 barangays of 7 cities and 62 municipalities in 12 provinces.
Electricity was down throughout Luzon, including the capital Manila, with more than 90 percent of Manila's 12 million residents without electricity Wednesday afternoon. The national energy transmission company warned that the power outage in some areas of Manila and neighbouring regions may last for up to four days.
The capital's railway system was also down due to the power outage, while the government closed down elementary and high schools.
Basyang was the first strong typhoon of the season, and its strength took many people in Metro Manila by surprise after the state weather service, PAGASA, said the typhoon would only strike provinces to the north of Luzon.
The estimated cost of damage to infrastructure, agriculture, fisheries and schools in Regions 4-A, 5 and Metro Manila were placed by the government at PhP 23.696 M.
Appeal for support
As of this writing, 1,526 families or 7,545 persons remain inside 37 evacuation centers, the NDCC said. These families need food and non-food items such as: rice, canned goods, water, hygiene kits, clothes, bedding and shelter kits.
For your donations, please call 929-9820 / 929-9822 or drop by CDRC's office at 72-A Times St., West Triangle Homes, Quezon City.
Sources:
Philippine Daily Inquirer, 07/15/2010
National Disaster Coordinating Council Situation Report No. 9, 07/15/2010