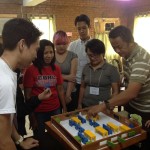 25 February 2015 – A total of 15 trainees from the Citizens' Disaster Response Center (CDRC) and Community Response, Enlightenment, Service and Transformation (CREST) successfully completed a Training of Trainers on Disaster Risk Reduction (TOT-DRR) conducted by Arbeiter Samariter Bund (ASB) at the CDRC Conference Room in Quezon City on Feb. 16-20, 2015.  Action Medeor, T-Mobile and Aktion Deutschland Hilft sponsored the event.
The training was held in preparation for the child-centered, disability-inclusive and school-based disaster preparedness project with ASB. ASB is a German aid and welfare organization concerned with the development and implementation of emergency preparedness, voluntary work, disaster relief, humanitarian aid and social services. CDRC and CREST are the implementing organizations of the said project.
The 5-day training began with discussions on the importance of having a school-based DRR to instill a culture of safety among school children. Participants also underwent a workshop on inclusive DRR which prioritizes persons with disability, including pregnant women and the elderly. The first day ended with discussions on flood and fire safety tips. Programme Coordinator and trainer Melina Margaretha stressed on giving out practical information because "it saves lives, could be given by non-experts, and avoids misleading messages." According to her, giving very complex ideas about disasters would only be a waste of time and resources.
Day 2 was an extensive discussion on earthquake safety procedures. The participants learned the principle of "drop, cover and hold on." Discussion on school risk mapping or safe room setting taught the participants how to identify hazards inside and outside the classroom, how to minimize risks and how to identify the strengths or resources which may be used when there is an earthquake. As part of inclusive DRR, participants learned how to identify vulnerable groups which should be prioritized during disasters. The day finished with an evacuation drill.
Day 3 covered the preparation, presentation and execution of lesson plans. Participants divided into four groups (Earthquake, Fire, Flood, School Risk Mapping/Safe Room Setting) did their first trial training in front of trainers and co-participants. After this, the participants agreed on the contents, methodologies and materials which will be rolled out to private and public school teachers.
Day 4 was another trial training in front of faculty representatives from St. Stephen's High School, Tungkong Mangga Elementary School, St. Paul University Quezon City (Elementary Department), and Colegio de San Lorenzo Ruiz. Participating teachers provided their inputs and critique on the topics, teaching aids and methods used.
The training concluded on Day 5 with a final trial training in front of faculty members of the East Bagong Barrio Elementary School (EBBES, Caloocan City) and barangay officials. The trainers received positive feedback from the teachers. Evaluation by the participants at the end of the training indicated satisfaction over the clarity of objectives, delivery of materials, confidence with the delivery of safety procedures and applicability of topics for school and the community.
After the over-all assessment of the TOT, Team Leader Rani Sawitri awarded the Certificate of Participation to the tired but still high-spirited trainers.
The "new graduates" are now preparing for the first batch of TOT to be conducted to 150 primary school teachers from the National Capitol Region (NCR) this coming March. ###