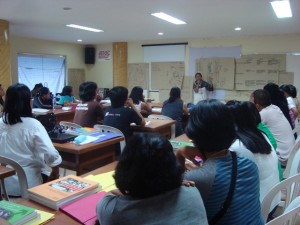 The non-government organization, Citizens' Disaster Response Center, called on the newly sworn-in president to prioritize disaster preparedness in his first 100 days of office.
With the observation of Disaster Preparedness Month this July, and with the rainy season and La Nina expected until November, CDRC is challenging President Benigno "Noynoy" Aquino III to beef up government's disaster-preparedness and response systems this early.
"Let's not wait for the next disaster to hit the Philippines before we reinforce our systems," CDRC's Executive Director, Lourdes Louella Escandor said during a gathering on Disaster Risk Reduction in Antipolo City, attended by its network partners all over the country. She emphasized that early preparation is the best solution to natural calamities.
Last year, the Philippines topped the list of countries most frequently hit by natural disasters, as revealed by the Emergency Events Database (EM-DAT) being maintained by the Belgium-based Centre for Research on the Epidemiology of Disasters (CRED).
CRED also ranked the Philippines 2nd to China in the top ten list of countries most affected by natural disasters in 2009 with 13.6 million people affected. Typhoons Ondoy and Pepeng, two of the most devastating typhoons in the country's history, happened late last year.
Escandor also urged the new administration to fully implement the Disaster Risk Reduction and Management Act of 2010 (RA 10121) which was signed into law by former President Gloria Macapagal Arroyo last May 27 before she stepped down from office.
Under this law, the National Disaster Coordinating Council shall be replaced with the National Disaster Risk Reduction and Management Council.
A Local Disaster Risk Reduction and Management Office shall also be established in every province, city and municipality, and a Barangay Disaster Risk Reduction and Management Committee in every barangay which shall be responsible for setting the direction, development, implementation and coordination of disaster risk management programs within their territorial jurisdiction.
Also under the new law, the Calamity Fund, renamed as the National Disaster Risk Reduction and Management Fund (NDRRM Fund), can now be used for disaster risk reduction or mitigation, prevention and preparedness activities. Before this law was passed, the Calamity Fund can only be tapped during emergencies.
Escandor said the challenge to the new administration is to ensure that this law is fully implemented down to the baranggay level.
She added that CDRC, together with its Regional Centers all over the Philippines, have pledged to continue its mission to prepare and equip ordinary people in the communities with knowledge and skills on what to do before, during and after calamities.
She said that it is within CDRC's core program, which is being funded by one of the biggest welfare institutions in Germany, Diakonisches Werk, to strengthen the capacity of the communities in dealing with disasters.