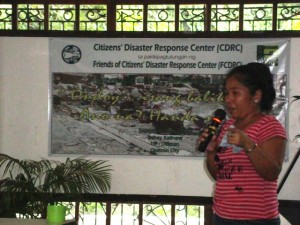 The Citizens' Disaster Response Center commemorated Ondoy tragedy's one year mark last September 26 through a gathering dubbed as Ondoy: Isang Balik-Tanaw (Ondoy: A Flashback).
The event, which took place in Balay Kalinaw in UP Diliman, was attended by volunteers, donors, and partners who have made significant contributions in helping the survivors of TS Ondoy rise above the calamity. Survivors also attended the event to share about their experiences.
Marilyn Tinio, Ondoy tragedy survivor from Bagong Silangan, Quezon City, recalls the tragedy with grief.
"We thought it was just another rain, but heavier rains later started to fall. Water suddenly rose within seconds and the floodwaters reached as high as the second floor of our house. My heart broke when I heard one of my children say 'Ma, I'm so tired' trying hard not to drown. The current was so strong. I myself was having difficulty trying to keep myself afloat, but I have to be strong for my children. I have to save my children."
"It was difficult even after the rain has stopped. My children and I had to eat uncooked noodles and uncooked rice for several days to survive," Tinio added.
The event also highlights the bayanihan spirit present in all Filipinos from all walks of life—students, teachers, housewives, factory workers, artists, businessmen, and government employees, among others. Ondoy was witness to how the vulnerable and the less vulnerable sectors united for a common purpose.
Hart Adorna, a preschool teacher who volunteered during the height of Ondoy, would spend sleepless nights sorting and repacking goods for the victims.
"I did whatever I could to be of help to others. Ondoy was a wake up call for me. I realized that anything can happen in just a blink of an eye. Nothing is permanent in this world and what we have now may be lost. Ondoy tragedy made me closer to God," said Heart.
Another volunteer, John Voltaire Lim, was also there during the many relief delivery operations conducted by CDRC. A photographer, Lim captured the whole essence of bayanihan when he joined CDRC in one of its relief delivery operations in Balara, Quezon City last year. He also captured the innocence of children during one of CDRC's psychosocial activities in Sta Inez, Tanay, Rizal.
"Whenever CDRC asked for my help, especially during Ondoy, I made myself available," Lim said.
The survivors are forever thankful for all the help that poured in. Volunteers, donors, supporters and partners are lifesavers to the many who were affected by Ondoy.
"Ondoy made all of us heroes in countless ways," said Carlos Padolina, CDRC's deputy executive director.
Ondoy: Isang Balik-Tanaw  event was also highlighted by the launch of "Helping people help themselves", a short thematic video on volunteerism, and on empowering communities in facing and coping up with disasters. It is written and directed by Karl Ramirez featuring his song "Alagaan ang Kalikasan."
The nightmare that was Ondoy
TS Ondoy which struck the Philippines September 26 last year, is one of the most destructive weather-related disasters in recent history. It brought devastation to 829,498 families in Metro Manila, Bulacan, Pampanga, Batangas, Laguna, Rizal and some areas in Region VI, IX, XII and ARMM.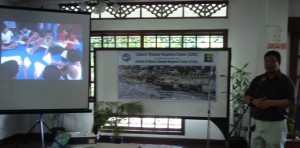 Ondoy's sheer force overwhelmed both government agencies and nongovernment organizations. Even Citizens' Disaster Response Center, a non-profit organization advocating community-based disaster management, was surprised by the unprecedented magnitude of Ondoy. "Our activities scheduled on that day had to be postponed. Major roads were rendered impassable. Even in Times Street, the flood was knee-deep," said Carlos Padolina.
Ondoy poured more than a month's worth of rain in just 24 hours. According to PAGASA, the 455 milliliters of rain on September 26 is one and a half times the historical average of 364 mL for the month of September from 1993 to 2008.
In Metro Manila, over 100,000 people from over 900 barangays evacuated. In some areas, floodwaters rose to second and third floors of buildings, forcing residents to seek refuge on the roof of their houses. There were children crying out for help on their roofs and waiting desperately to be rescued. Others were completely swept away by the strong current along the flooded streets. Landslides also occurred in other regions.
Four weeks after Ondoy hit Metro Manila, several communities were still submerged in floodwaters.
"We did not expect emergency relief operations to last until December. We worked 24/7. Seeing many communities still under water is no reason for us to slow down," said Padolina.
Proactive disaster management

With its geophysical and socio-economic condition, the Philippines is unquestionably vulnerable to disasters but deaths and devastation to thousands of families and Php 8.3 Billion worth of damage to infrastructure could have been reduced if more emphasis had been placed on disaster preparedness and risk reduction.
"An effective disaster management work emanating from the government is still wanting. Needless to say, the country has consistently experienced an unrelenting showdown of extreme events. In fact even in a period traditionally known as disaster-free months, disasters have continued to strike," said Louella Escandor, CDRC's executive director.
While there is nothing that can be done to prevent typhoons and other hazards from happening, one can always prepare for them to minimize loss of life and property.
CDRC is now focusing on two of its projects. One of which is the project entitled:  Disaster Preparedness and Mitigation for Flood and Landslide prone Communities. It is managed by Singaporean humanitarian NGO Mercy Relief with the support of Singapore's leading media company MediaCorp, and implemented by the Citizens' Disaster Response Center together with its network of regional centers. It was launched in 24 landslide and flood-prone communities in seven municipalities and three cities in the provinces of Negros Oriental, Negros Occidental, Iloilo, Sarangani and Misamis Oriental.
CDRC also continues to implement the third phase of its disaster preparedness and mitigation project in typhoon-prone Philippine regions. Now, on its third year, Diakonie Katastrophenhilfe pledged to continue to support the project for three more years.
The project will serve small farmers, fisherfolks and indigenous people in 128 typhoon-prone communities in 26 provinces across Luzon, Visayas and Mindanao.
"These two projects hope to build the capacity of selected communities through awareness-raising and the formation of Disaster Preparedness Committees (DPCs), and to develop and build community resources for long-term mitigation and risk reduction", Lourdes Louella Escandor, CDRC's Executive Director said.
Escandor said that through trainings, formation of disaster preparedness committees, tree planting, and backyard gardening, CDRC and its regional centers hope to contribute to the overall risk reduction efforts.
It is hard not to expect any more Ondoys in the coming months, and only through proactive disaster management can we face disasters of that magnitude."