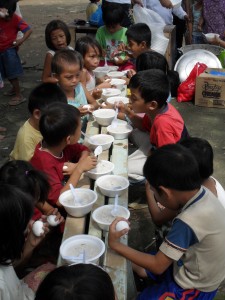 The Citizens' Disaster Response Center (CDRC), a community-based disaster management organization, fed the children staying in an evacuation center in Baranggay Malanday, Marikina City.
Marikina was one of the cities hit hardest by typhoon Ondoy. While the floodwaters have receded, many people are still in need of basic necessities such as food, clothing and shelter. Almost all of their belongings were washed out by the floods.
"Children are among the most vulnerable in disaster situations." said Dakila Aquino, Advocacy Officer of CDRC. Even though there is no longer any heavy flooding in Marikina, children are still badly in need of relief operations."
CDRC, an organization established in 1984 by ordinary citizens, and its team of volunteers also conducted a free play activity for the children who joined the feeding program. The free play activity served as an alternative learning session for the children whose regular schooling was disrupted by the disaster.
"The evacuees staying inside the covered court in Baranggay Malanday were among the most affected, and yet the least served," Dakila Aquino said.
CDRC has already delivered relief goods to families living along the Tumana river, also in Marikina, but over 100,000 families are still appealing for the organization's assistance.
After 25 years of service, the Center continues to serve the country's most vulnerable sectors and help them develop prosperous, just, humane, and resilient communities.