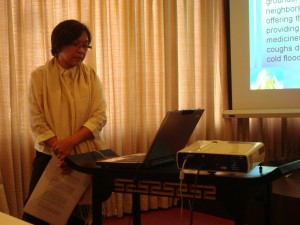 The Citizens' Disaster Response Center presented a paper highlighting the role of damayan and bayanihan in disaster resiliency in the Asian Symposium on Disaster Impact and Assessment in Hue, Vietnam last August 25-27.
The three-day conference was organized by MICRODIS, a European Commission-funded disaster policy consortium composed of experts from across Europe and Asia with the overall goal to strengthen preparedness, mitigation and prevention strategies in order to reduce the health, social and economic impacts of extreme events on communities.
The symposium brought together academics, researchers, UN representatives, and NGOs from 13 different countries to discuss ways to improve disaster impact and relief operations in the region.
Proefessor Teresita Barrameda, a faculty member at the University of the Philippines, represented CDRC in the symposium with her paper: "Rebuilding Communities and Lives: the role of damayan and bayanihan in disaster resiliency."
Her paper presentation was based on the MICRODIS-funded survey done by CDRC in the province of Albay in the Bicol Region last December 2008.
Barrameda said that in the Philippines, bayanihan and damayan serve as representation of resilience in difficult situations brought about by typhoons and floods.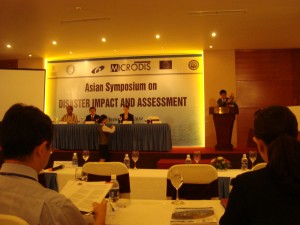 She further stressed that utilizing the indigenous forms of support like the bayanihan and damayan mechanisms, the people learned to developed internal resiliency, both at the individual and collective levels.
"Since the communities are all resource-poor, bayanihan and damayan are considered part of their social capital that they can utilize both in their daily survival and during extreme events," Barrameda said. "The community gained knowledge on how to cope/adapt from the recurring typhoons and floods; bayanihan and damayan serves as the application of their culled knowledge."
In her conclusion, she said that bayanihan and damayan can be utilized especially by the local government units in mobilizing people for disaster mitigation, emergency and recovery. "The spirit of volunteerism shown through bayanihan and damayan can be utilized in mitigation measures like reforestation, stonewalling of rivers, etc," Barrameda stressed.