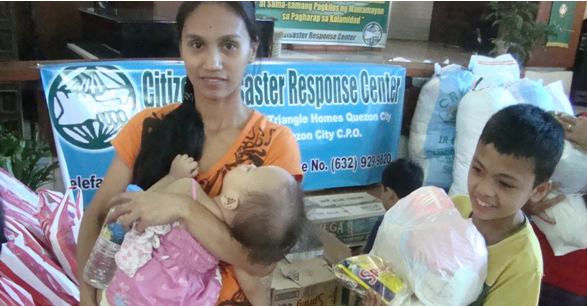 In commemoration of its 25 years of service, the Citizens' Disaster Response Center (CDRC) offered October 6 to the more than a million victims of tropical storm Ondoy with a mass and relief delivery operation.  This day marks the founding day of the organization.
"Since last week, we have been receiving clothes, food, medicines and cash from people all over the world.  These were delivered to communities in Pasig, Marikina, Manila, Muntinlupa, Pampanga and Bulacan.  But there never seem to be enough for all," said Carlos Padolina, Deputy Executive Director of CDRC.
Of the 797,404 families or 3.8 million people affected, more than 100,000 families are still requesting CDRC for help.
"Much as we would like to serve all of these families, our resources are very limited at this point.  Each one of us is most needed at this time.  Every donation, every single minute of time and effort counts for thousands of victims left homeless.  Our doors are wide open for donations of any kind," said Padolina.
Among the identified needs are food provisions (canned goods, dried fish, monggo beans), drinking water, medicines (especially for the common cold and diarrhea), clothes, bedding (mats, blankets, mosquito nets), and construction materials (plywood, corrugated metal roof, wood, etc.).
"And to express our gratitude to God for His mercy, for the generous donors, and for the hard work and dedication of all the volunteers who assisted in the relief efforts for typhoon Ondoy, we offered a thanksgiving mass," Padolina said.
Proceeds of the mass offering will go to the affected communities.  A relief delivery operation for the families affected by Ondoy in a community in North Triangle, followed after the mass.
CDRC was established to respond and provide immediate assistance to the growing needs of victims when Mayon Volcano erupted in 1984.  The Center has remained steadfast in promoting and embodying the principles of Community-Based Disaster Management throughout the years.  After 25 years of service, the Center continues to serve the Philippines' most vulnerable sectors and help them develop prosperous, just, humane, and resilient communities.