14

Oct 09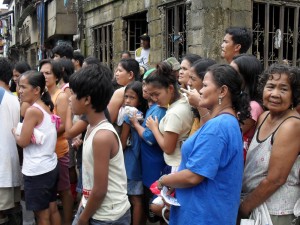 Marikina City -– The Citizens' Disaster Response Center provided relief assistance to 738 families at an evacuation center in Malanday on Saturday. This was in support of the ongoing emergency response to poor urban communities that have been devastated by Typhoon Ondoy.
"This is my first time volunteering for CDRC and I feel happy after the relief delivery operation. Even though the community was greatly affected with floodwaters, I saw the close coordination of the organization with the people in the area," said Jonn Maling, a volunteer of CDRC. "The whole process of the relief delivery from assessment to evaluation went well. Unlike with previous humanitarian organizations which I have assisted, the most vulnerable families have already been identified. That's why there was no fighting for relief goods."
CDRC and its regional centers carefully identify the affected families, taking into account the gravity of destruction, their economic capacity, their accessibility to relief services conducted by other agencies, and their willingness to help themselves.
"It also helps that the people themselves are part of the disaster volunteers in the area. They know the families to provide for and ensure that the relief assistance goes to the most vulnerable ones," added Hariette Adorna, one of the volunteers of CDRC. "The community disaster volunteers help in ensuring the organized flow of relief distribution."
"We want to counter the dole-out mentality whereby affected families are treated as victims without the capacity to rise up and rebuild their lives," said Teresa Britanico, CDRC"s field operations coordinator.
CDRC advocates community-based disaster management in which local citizen volunteers actively develop disaster preparedness initiatives in their own communities