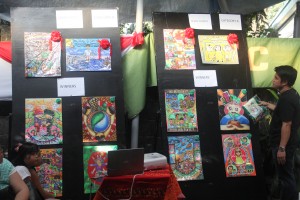 The Citizens' Disaster Response Center (CDRC) has formally announced the winners of  the annual nationwide poster-making contest entitled "APOY, BAGYO, KALAMIDAD: DIBUHONG PAMBATA (ABKD) 2014" during the organization's 30th foundation anniversary last October 6, 2014.
This year's grand prize winners are Ashley Winslet C. Sy and Jean Andrei T. Nubla for Category A and Key C. Jaboneta and Janice Ashley B. De Jesus for Category B.
The four major winners and eight runners-up received cash prizes, certificates and t-shirts with images of their winning entries printed on them.
The nationwide competition recognizes the capacities of children to take active part in the advocacy of issues related to disasters. Now on its 20th year, ABKD continues to serve as a venue for children's artistic and creative expression of their views and concerns on disasters.
The panel of judges was composed of artists who are also advocates of children's welfare, environmental protection and community-based disaster management. They are Emil Yap, Lorena Pacampara, Sarah Espineda, Andrew Alejo and Taku Shinjo.
This year's contest was sponsored by Diakonie Katastrophenhilfe. The winning artworks will be featured in CDRC's 2015 disaster preparedness calendar and other advocacy materials.
Below is the complete list of grand prize winners and runners-up:
Category A (Entries made by 7 to 9-year olds)
Grand Prize Winners:
Ashley Winslet C. Sy, St. Stephen's High School of Sta. Cruz, Manila
Jean Andrei T. Nubla, Tiong Se Academy of Binondo, Manila
Winners:
Tynnie Faith R. Balceda, Ticud Elementary School of Iloilo City
Mariel Kimberly R. Hsueh, Chiang Kai Shek College of Sta. Cruz, Manila
Joshua Ryan T. Nubla, Tiong Se Academy of Binondo, Manila
Cyrel M. Samillano, Tungkong Mangga Elementary School of CSJDM, Bulacan
Category B (Entries made by 10 to 12-year olds)
Grand Prize Winners:
Key C. Jaboneta, Ticud Elementary School of Iloilo City
Janice Ashley B. De Jesus,  Amparo Elementary School of Caloocan City
Winners:
Christopher Mark D. Arabia, Tungkong Mangga Elementary School of  CSJDM, Bulacan
Margaret Anselm Dela Cruz, Tiong Se Academy of Binondo, Manila
Matthew T. Liao, Tiong Se Academy of Binondo, Manila
Kier Paolo G. Lim, Tiong Se Academy of Binondo, Manila