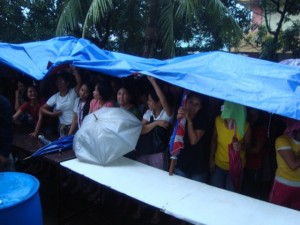 Outside the Rotary Building of Marikina were people waiting in long lines — mothers, fathers and children — under the rain for their share of relief packs.
One of those waiting in line was Maricris de Castro, holding her 1-yr old baby, Cyrus. "He's one of the survivors," said Maricris, smiling as the boy hugged her tightly. "He managed to behave well as we stayed on our roof from 11am to 5am the next day without food and water."
The Citizens' Disaster Response Center on Tuesday distributed relief assistance to 350 families in Tumana, Marikina. This was in support of the ongoing emergency response to urban poor communities devastated by Typhoon Ondoy.
The relief delivery operation was implemented with the support of Diakonie Katastrophenhilfe, Norwegian Mission Alliance, and in partnership with the Community Response for Enlightenment, Service and Transformation (CREST) and the Rotary Club of Marikina.
"Now is the time more than ever for ordinary citizens, businessmen, church groups, government and non-government organizations to unite efforts and pro-actively respond to the most vulnerable communities," said Bernie Aquino, Chairperson of CDRC's Board of Trustees.
CDRC recognized the need for multi-stakeholders to join hands in supporting the families affected by disasters. "We are more than willing to provide the venue and vehicle for the next relief operation," said Vincent Santos, president of the Rotary Club of Marikina. The Norwegian Mission Alliance would also continue to join the team in conducting relief delivery operations in the different areas.
"Families, especially those staying at the Malanday Basketball Court, are still in need of assistance," said Rose Mindana, a resident of Tumana. "Most of the people are staying with relatives right now with no houses to return to," she added. "We are appealing not only for relief assistance but for rehabilitation support for those who no longer have anywhere to go."