The Disaster Risk Reduction and Management Act 2010 which promotes community based disaster management has been finally signed by President Gloria Macapagal Arroyo last May 27, 2010 into law now known as Republic Act 10121.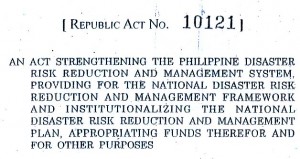 It took nearly nine years before the bill is signed into law and is supported by civil society organizations including Citizens' Disaster Response Center (CDRC). The implementation of the law will now be the responsibility of the National Disaster Risk Reduction and Management Council, which is empowered with policy-making, coordination, integration, supervision, monitoring and evaluation functions.
The DRRM Law protects the people's constitutional right to life and property. Property is noted as the determinant of vulnerability and the protection of which requires strengthening the capacity of local partners and the nation's infrastructure while building local resilience to impacts of climate change: Capacity is the, "combination of all strengths and resources available within a community, society or organization that can reduce the level of risk, or effects of a disaster (DRRM Law, Sec. 3b)."
The DRRM Law moves towards structuring universal standards of humanitarian assistance, such as standard operating procedures on deployment of rapid assessment teams, information sharing and communication systems, along with involvement and participation by all stakeholders. In order for this to be effective, the DRRM Law is coupled with a program within the Government's development plan which stipulates good governance, transparency and accountability.
The establishment of trust and communication between parties both horizontally and vertically allows for the decentralization of power, resources and responsibilities as well as enlarges the scope for developing "policies and plans and the implementation of actions and measures (DRRM Law, Section 4)."
One policy in place thus far is the establishment of training institutes for preparedness, which is already undertaken by certain civil society groups such as CDRC. This includes education on disaster risk reduction in schools, Sangguniang Kabataan Programs, and for public sector employees. Another step which will be taken for risk reduction and management is the "accreditation, mobilization, and protection of disaster volunteers and National Service Reserve Corps, Civil Service Organizations and the Private Sector (DRRM Law, Sec. 13)."
Also, according to DRRM Law, in a state of calamity the Government will implement a price ceiling on basic necessities in order to ensure affordability.  Thirty percent of the NDRRM Fund is set aside for immediate relief and assistance in the state of calamity with a Quick Response Fund.
Information retrieved from:
http://www.bulatlat.com/main/2009/10/16/ondoy-pepeng-underscore-need-for-%E2%80%98pro-active%E2%80%99-disaster-management-system-says-cdrc/
http://www.ndcc.gov.ph/attachments/045_REPUBLIC%20ACT%20No%2010121%20part%201.pdf
http://www.ndcc.gov.ph/attachments/045_REPUBLIC%20ACT%20No.%2010121%20Part%202.pdf