EARTHQUAKE IN SURIGAO CITY
Situation Report #1
11 February 2017, 1:00 PM
Overall Situation
A strong earthquake with a preliminary magnitude of 6.7 occurred in Mindanao, Philippines on February 10, 2017 at 10:03 PM located at 9.8 oN, 125.6 oE with depth of 10 km.
No destructive threat exists based on the historical and tsunami data.
Reported intensities:
Intensity VI – Surigao City and Pintuyan, Southern Leyte
Intensity V – Manadaue City, San Ricardo, Limasawa and San Francisco Southern Leyte
Intensity IV – Hinunangan, Southern Leyte and Butuan City, Misamis Oriental
Intensity III – Hibok-hibok, Camiguin, Tolosa and Tacloban, Leyte, Bislig City, Gingoog City, Misamis Oriental
Intensity II – Cagayan de Oro City, Talocogon City, Agusan del Sur, Dumaguete City, Cebu City
As of February 11, Saturday morning, 89 aftershocks had been recorded and more expected but they are unlikely to cause significant damage.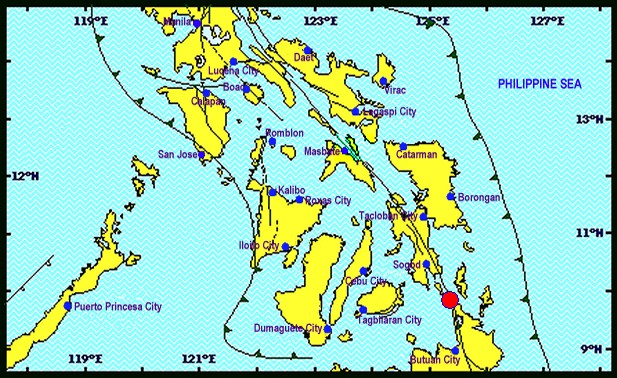 Report on Affected Population
February 10, people rushed to open spaces and spent the night in parks and shelter/elevated areas
February 11, four people were confirmed dead and a total of 108 individuals were injured in Surigao City, Surigao del Norte
Surigao City Airport closed due to runway damage
Anao-aon Bridge in San Francisco municipality, Surigao del Norte split into three sections, towns isolated
Bridges along national highway going to Lipata suffered serious cracks
Lipata Ferry Terminal is temporarily closed. All vehicles in and out of Lipata Ferry Terminal are diverted to Surigao City Port
The municipalities of Malimono, Sison, San Francisco, Mainit and Taganaan, all in the province of Surigao del Norte are now on blackout
BREAD Rapid Assessment Team reported:
– power-lines are down, water supply interrupted
– bridges and a hotel collapsed and some homes damaged in Surigao City
– a landslide in Barangay Trinidad, Surigao City
Emergency Response Efforts
CDRC Emergency Protocol Structure closely monitors the situation and gathers information from and sending updates to its regional center in Caraga region, Bread for Emergency Assistance and Development, (BREAD)
On February 11 morning, BREAD dispatched a Rapid Assessment Team in Surigao City
Resources Available
Coordination
– Bread for Emergency Assistance and Development, Inc. (BREAD)
Donors:

Diakonie Katastrophenhilfe (DKH)
Asia Pacific Alliance for Disaster Management (APAD)

Other networks and organizations:

Philippine Disaster Resilience Foundation (PDRF)
Disaster Risk Reduction Network Philippines (DRRNet Phils)

Government agencies:
– Disaster Response and Management Bureau, Department of Social Welfare and Development
Contacts
Sources:
Philippine Institute of Volcanology and Seismology (PHIVOLCS)
Philippine Information Agency (PIA), Caraga
Philippine Information Agency (PIA), Agusan del Norte
See PDF File: Surigao City Earthquake_Sit Rep 1