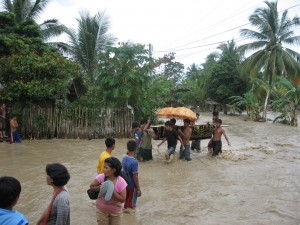 Eleven provinces in nine regions were affected by Tropical Storm Jolina over the weekend. Some 38,589 families suffered from floods and landslides due to heavy rains. Eight people died, 10 others were injured, and 5 went missing.
One of the most affected areas is Negros Occidental wherein houses were destroyed due to strong winds. Communities, school grounds, rice and corn farms and sugarcane plantations and fishponds were heavily flooded as well.
In the municipality of Isabela, at least 529 evacuees from Hacienda Noneng in Brgy. Tinungan, Hacienda Robles in Brgy. Guintubdan, Hacienda Galo and Hacienda Alegria in Brgy. 5 were forced to seek refuge inside the compound of the town's municipal hall bringing with them their carabaos, carts, goats and other properties.  The three to five feet deep flood has caused destructions to their crops.
In Brgy Cambugros, municipality of Binalbagan, at least 115 inhabitants of Purok Punaw, Purok Uway and Purok Awis evacuated to Cambugros Elementary School due to the waist deep flood which destroyed their crops and caused the overflowing of fishponds. A tornado also struck the houses in the community.
In Brgy. Linao and Aranda in the municipality of Hinigaran, floods also devastated the crops and some houses and threatened the lives and safety of at least 41 inhabitants.
In Brgy Mambugsay, municipality of Cauayan a child died when a big tree was uprooted and fell in a house while in Brgy Omilis, also in the same municipality; a farmer was drowned due to the strong current of floodwaters.
In Brgy Banago, Bacolod City, 185 people also evacuated their place due to floods caused by two days of sustained rains which threatened the safety of the residents.
It must be noted that prior to the above-stated calamities, the poor in Negros Occidental such as the farm workers, farmers and urban poor were already in a state of calamity caused by 'tiempos muertos', or hunger months due to the off-milling season at the sugar centrals.  Unfortunately, the prevailing food shortage was made worse further by the monsoon rains and typhoon Jolina from July 30 to August 2, 2009.
Appeal for assistance
The affected families are in need of food and non-food items like potable water, rice, canned goods, cooking utensils, containers, blankets, etc. Medicines for common water-borne diseases are also needed.
Donations for the evacuees may be sent through the Citizens' Disaster Response Center at 72-A Times St., West Triangle Homes, Quezon City. Concerned individuals and donors can easily reach us at (632) 929-9822 / (632) 929-9820. Donations may also be sent through the following bank accounts:
Dollar Account
Account Name:  Citizens' Disaster Response Center
Account Number:  2636-0015-83
Bank:  Metrobank, Examiner Branch
Bank Address: Corner Examiner and Quezon Avenue, West Triangle, Quezon City, Philippines
Swift Code: MBTCPHMM
Peso Account
Account Name:  Citizens' Disaster Response Center
Account Number:  1560-6430-16
Bank:  China Bank, Examiner Branch
Bank Address: Corner Examiner and Quezon Avenue, West Triangle, Quezon City, Philippines
Reports from:
Center for People's Resources and Services (CPRS)
National Disaster Coordinating Council (NDCC)