In the Philippines, the month of June is marked by the change in climatic patterns from the dry to wet season. This year, the change in weather has caused particular excitement for many, due to the fact there has been a prolonged period of dryness throughout the country since June 2009. The dryness, referred to as El Nino has negatively affected people, and their livelihoods that depend on the land. According to impact assessments conducted by the National Disaster Coordinating Council (NDCC) in agriculture alone, crop damages are estimated at P12 billion. However, as communities rejoice for the calling of more rain, it's important to not forget the equally destructive dangers that exist with this abrupt change in weather patterns towards wetter conditions.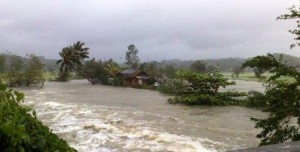 Preparation is the best defense for communities.  With the effects from Ondoy and Pepeng, a past too recent to forget, communities have already started requesting for different forms of assistance: preparation training, early warning devices, relocation and construction plans and mobilization of emergency teams. The NDCC and local authorities are rushing to set up an alarm systems, rain gauges and flood forecasting plans to alert communities in danger zones of an impending disaster. Once an alarm is raised, the NDCC and local governments are responsible to set up evacuation efforts.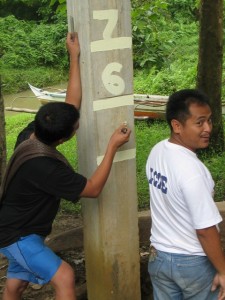 Another preparatory defense for communities and their leaders is to observe the weather advisories released from different monitoring bodies.  For example, last week PAGASA (Philippine Atmospheric, Geophysical and Astronomical Services Administration) released a weather advisory to all government leaders in the country. The advisory stated that a Low Pressure Area (LPA) was approaching from Taiwan, an estimated 490km Northwest of Basco, Batanes. The weather disturbance expected to bring scattered rain showers and thunderstorms over Northern and Central Luzon becoming widespread over extreme Northern Luzon. The residents living in low lying areas and near mountain slopes were therefore advised to take precautionary measures against possible flash floods and landslides.
To keep yourself up to date on weather reports and advisories, please bookmark the following sites for updated, 24-hour access current weather information.
http://www.pagasa.dost.gov.ph/ (Smart users can subscribe for SMS advisories)
Information Retrieved from:
PAGASA Weather Advisory report  11:00 am, May 28th, 2010
National Disaster Coordinating Council report 29th April, 2010