20,000 residents in Sultan Kudarat are forced to evacuate to higher grounds due to heavy rains and flooding on June 20 Sunday, according to National Disaster Coordinating Council.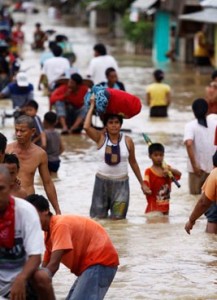 This is the third of a series of mass evacuations which started May. Evacuees came from the 10 low-lying villages namely: Bulalo, Salimbao, Calsada, Katuli, Gang, Macaquiling, Limbo, Senditan, Banubo and Mulaog.
Losses in infrastructure and properties amounted to P20 Million.
Background:
On the 26th of May, flash floods ravaged through the 10 villages of Sultan Kudarat and Sultan Mastura, in Northern Maguindanao. The heavy rains lasted from Wednesday until Saturday, flooding the low-lying areas. A total of 47, 552 individuals/9388 families have been reported as being affected. On the 28 May, affected families were evacuated to Dawa Center, Simuay for safety. Fortunately, by the morning of the 29th, the floods had subsided enough to allow the evacuees to return to their homes.  A damages and needs assessment was conducted in the affected areas by the MDCC Sultan Kudarat Team. 15 homes and 40 hectares of agricultural crops were completely destroyed.
Information sourced from:
http://newsinfo.inquirer.net/inquirerheadlines/regions/view/20100620-276659/Floods-displace-20000
National Disaster Coordinating Council Incident Report, updated as of May 29th, 2010 @ 8:00pm
Photo taken from The Mindanao Examiner. http://www.mindanaoexaminer.com/news.php?news_id=20100601064653