The heavy rainfall that started last February 12 has resulted to the evacuation of 675 families in General Santos City and 87 families in Alabel. It also affected 275 families in Alabel and 758 families in Malapatan and Glan in Sarangani Province.
Many houses and highways in some portions of Sarangani and General Santos communities were submerged to up to 1-2 meters high of floodwater.  Many houses along the rivers and near the small canals in some highways were under water until 12:00 noon of February 13.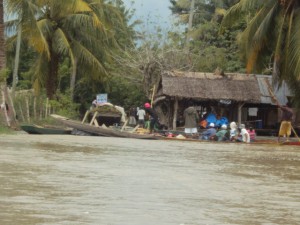 On February 16, landslides happened in Barangay Domolok, Alabel, Sarangani Province and a house was covered by a 50 -meter landslide.  Ten houses were declared within danger zone in Domolok.
On February 21, more than 100 families in the mountainous area of Barangay Lun Padidu were stranded when a 5-meter landslide of soil and rocks covered the corn fields and the main road on February 20. The road is impassable for 2 days.  Root crops, coffee and the vegetable gardens of the residents were covered in 1-meter of mud.
About 45 families in Sitio Malakahi, Barangay Poblacion Malapatan, were also threatened by the massive soil erosion and small landslides.
Another 485 families from 4 villages down to the Barangay Poblacion are in danger of flooding every time heavy rain comes.  In Glan, a total of 228 families were affected by the floods last February 12 and 16. The 75 families in Kapatan and 58 families in Burias were also soaked heavily by the rising waters within the month of February.
Sarangani is home to vast and large fishponds. Every time rain pours, most of the communities, rice fields and houses are flooded.
There were no reported casualties but the sudden volume of rushing water filled heavily the river banks and canals that overflow to the rice fields and residential areas in many parts of Alabel and Sarangani. It damaged the gardens, rice fields, and livestock.
The continues rain and low pressure area developing in Mindanao has also resulted to flashfloods damaging crops and livelihood of hundreds of families in Koronadal, Banga and T'boli in South Cotabato.  The flashfloods, scattered landslides and erosion has already spread  to most of the SOCSKSARGEN area.
Still more than 100 houses are soaked in water in General Santos City and 85 families in Alabel. The 25 families who were affected by the landslide in Lun Padidu were isolated, and are experiencing hunger because of no access to food and safe drinking water.
The flashfloods in Lambayong, Sultan Kudarat continue to haunt the 820 families from Barangays Udtong and Sadsalan.
The former rice and corn fields, coconut producing areas and the roads are already impassable due to 5-7 meters high of floodwater. The people have to ride the boat to cross going to higher communities.  More than 500 houses were already wiped out due to permanent floods since year 2009.
Reports from:
Disaster Response Center (DIRECT)