05

Sep 12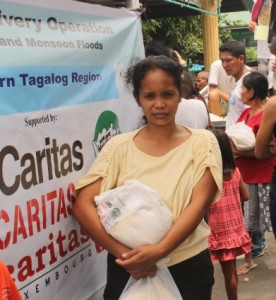 Sheila Beltran of Wawa, Siniloan, Laguna, is a housewife and a mother to three children. Her house was submerged (situated near rice fields) in flood water after the heavy Monsoon rains.
Her family evacuated last August 7 to the Wawa Elementary School after flood water quickly rose around their community. The water level inside the house was chest high, damaging all their properties.  Her family's livelihood was also greatly affected.  Since then, source of stable food and income has been inadequate.
According to Sheila, the Monsoon flooding was made worse this year by exceptional amount of rainfall — even worse than Typhoon Ondoy (Ketsana) in 2009. Her children also acquired bronchitis because of the poor living condition at the evacuation center. Until now, they could not go back to their house because water is still high.
Her family relies on her husband's garbage collecting, which barely meets their daily needs. The emergency relief that she received from CDRC will help augment the needs of her family. Sheila said that at least, for a couple of days, they won't have to worry where to get their next meal.
Interview by: Southern Tagalog People's Response Center (STPRC)