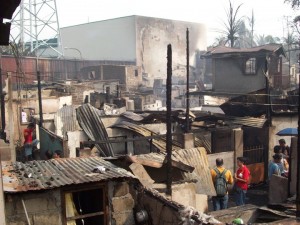 Hundreds of families were left homeless Thursday after a fire raged for almost seven hours in Barangay Cupang, Muntinlupa City.
Chief Insp. Roderick Aguto Sr., said about 800 families were affected by the fire which razed about 200 houses, mostly made of lightweight materials.
The Muntinlupa City Fire Station said the fire broke out at 7:15 p.m. last December 23 from a bonfire said to be started by Cerafin Litapa.
No one was injured or died in the fire. Damage to properties was placed at about P10 million.
***
Appeal for support
The affected families are in need of food and non-food items:
-Food (rice, sugar, canned goods,cooking oil, coffee, bottled water, noodles)
-Non-food (sleeping mats, blankets, medicines, laundry soaps, kitchen utensils, water containers, plastic sheets, portalets, and construction materials for housing repairs)
***
Sources:
Christmas eve fires hit Muntinlupa, Baseco / Manila Bulletin / 12-24-10
Disaster, Needs, and Capacities Assessment Report