Sitting alone on my flight to Manila, I wasn't sure that an internship in a completely unknown NGO in a country I had never been to before, was the best decision I had ever made. But I was already on the plane, which meant that there was no turning back. I was offered two other internships, so I crossed my fingers and wished that this was going to be the right thing for me.
CDRC takes on a lot on their shoulders. They provide trainings, development and relief aid. It is predicted that the capital Manila (whose official population is 17 millions) is going to experience a serious earthquake in the next 50 years. CDRC is providing trainings to make the population resistant.
During typhoon Yolanda, the office of LCDE was destroyed and the staff was forced to live in tents. CDRC provided the help they needed and started their own relief work. A year and a half after the same typhoon, some people still live in tents. CDRC is providing rehabilitation services.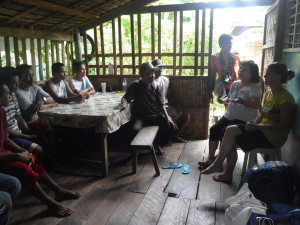 Experiencing the staff of CDRC shows a group of people who is passionate and tireless. It shows staff staying in the office overnight to finish their reports on time. It shows kindhearted people always on the run and who deeply desire to see their country rise out of poverty and become a resistant country. I admire the staff for their enthusiasm and talents.
You even experience some of the staff moving to an area for two years to fulfill a project — and that is commitment.
This also shows how CDRC is working community-based — that they have personal interaction/relation with the people they are helping. When they arrive at an area, it is like seeing them greet old friends. They want the best for their beneficiaries and participants, and these people know this.
During my internship, I got to experience a lot of the different projects CDRC are involved in. In Mapanas, Northern Samar, I have seen children using their creative skills while being educated about hazards and preparedness. I have seen the same children passing on this knowledge to others so the project benefits as many as possible. I have seen the teachers being trained so they can teach their students how to react during an earthquake.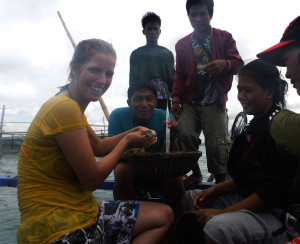 In Calbiga, Samar I observed almost a hundred local farmers being taught about their local hazards and how to prepare for them. They learn the importance of a local organization and how the community can act better together during a hazard and how important it is to make drills so the people won't panic if something unexpected happens. They also receive information and pep talks about women's rights. The community is "gobbling up" all these teachings.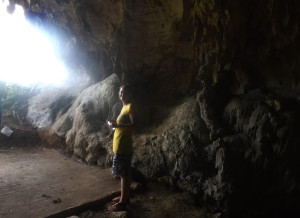 In Marabut, Samar, I entered the same caves in a cliff that the community uses as evacuation center during typhoons that are a least signal 3. In the same area, I visited their big fishing net (fish cage or "bentolan") in the middle of the river between the Islands Samar and Leyte. This was given to them by CDRC and its partner and now they can feed their family.
The day after Marabut, I witnessed how CDRC is in a project to build new and better shelters for the victims of typhoon Yolanda in Jaro, Leyte. These houses are very well-built and will stand during the next storm.
Experiencing all of these projects and meeting the people behind them showed me an organization who cares about its country and who is willing to help as many as possible.
Coming back from the rural areas, I observe how the Disaster Preparedness Training continues in the big capital and how they also try to help the victims from the flooding in the city.
CDRC is always busy, but always have time for the people who need them.
Through my time here, I have learned a lot about how to make preparedness and mitigation in reality. I have learned what it means to be either community- or child-based, and how you address your point to your audience. I have learned how the things on paper are not always the same in real life. When you are working with people, they have their own interest which is why development work can be challenging. But I have also listened to their success stories, where the communities brought the help they got to the next level, and started helping the adjacent community without assistance from NGO's. I have also learned how there is a lot of reporting and documenting and how important donors are.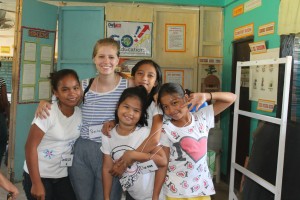 Besides the actual trainings and relief CDRC are giving, there are a lot of things to prepare for this to happen. Logistics and the relationship with the people you are helping are just as important. I also experienced some of the challenges transportation can face. When an NGO says it is hard to access, IT IS HARD TO ACCESS. And plans need to be postponed more than once, due to the will of nature.
I have learned a lot and look forward to tell about all my experiences. Thank you so much for having me!
*Rachel Jorgensen is a 23-year old student taking up a Bachelor's Degree in Emergency and Risk Management at the Metropolitan University College in Copenhagen, Denmark. She took her internship in international practice at the Citizen's Disaster Response Center from May to July 2015.