The El Nino phenomenon has weakened and neutral conditions may be expected, according to PAGASA in its 9th El Nino Advisory released on May 7.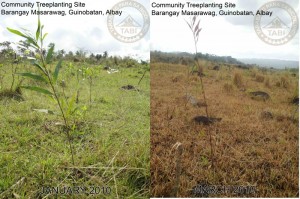 photo from TABI
"It has weakened during the second half of April but still within the weak El Nino threshold," it said.
The dry spell which started to hit the country in June 2009 caused drought in major provinces. As of April, areas that experienced dry spell conditions were Cebu, Negros Oriental, Leyte and Samar provinces, Bukidnon, Camiguin, Lanao del Norte, Misamis Occidental, Misamis Oriental, Davao del Norte, Surigao del Norte and Lanao del Sur.  Likewise, Rizal, Aklan, Antique, Guimaras, Iloilo and Negros Occidental experienced drought, PAGASA added.
Production loss amounted to Php 12,107,125,788.34, based on a May 7 report released by the National Disaster Coordinating Council (NDCC).
For the month of May, intertropical convergence zone, low pressure area and one tropical cyclone are likely to affect the country. Most parts of the country, though, will still be warmer than the normal temperature and "the onset of the rainy season associated with the southwest monsoon is expected to be slightly delayed," PAGASA said.
References:
http://kidlat.pagasa.dost.gov.ph/cab/ensoadvi.htm
http://www.ndcc.gov.ph/attachments/013_Sitrep%2014%20re%20Effects%20of%20El%20Ni%C3%B1o%20Phenomenon.pdf