CDRC and its Regional Centers assisted 3,631 families affected by Typhoon Pedring (Nesat) in Metro Manila, Central Luzon and Bicol.
Typhoon Pedring battered Luzon on September 25, 2011. At least 651,889 families or 3,030,755 persons were affected. Some 83 people were also killed, and 91 others injured.
The Philippine Atmospheric, Geophysical & Astronomical Services Administration (PAGASA) reported that nearly all of Luzon was affected by the typhoon's heavy winds and rain. The weather bureau reported that its diameter was unusually wide at 600 kilometres. As a consequence, its trackline covered a wide range of provinces, including Albay, Zambales, Tarlac, Nueva Ecija, and Metro Manila.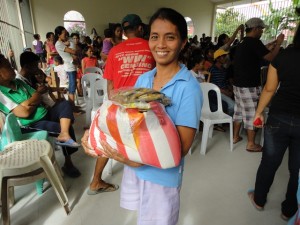 From January 17 to February 27, 2012, a total of 11 Relief Delivery Operations were launched by CDRC and three of its Regional Centers —  Tarabang para sa Bicol (TABI), Alay Bayan-Luson, Inc. (ABI), and Community Response for Enlightenment, Service and Transformation (CREST) — in these five provinces.
The beneficiaries received food and non-food assistance, information and education materials, and disaster management orientation, through the support of Caritas Switzerland and Swiss Solidarity.