The Philippines topped the list of countries with the highest mortality rate due to natural disasters in 2012.
The Citizens' Disaster Response Center (CDRC), a non-government organization based in the Philippines, cited the records of the Centre for Research on the Epidemiology of Disasters (CRED), which showed that 2,360 people were killed due to natural disasters in 2012. Coming in second was China with 771 deaths.
CDRC is a partner of CRED, a World Health Organization collaborating center based in Brussels, Belgium, which maintains the Emergency Events Database (EM-DAT: The International Disaster Database).
CRED also reported that in terms of the number of people affected by natural disasters, the Philippines came in second to China. There were 43 million people affected in China; and 12 million in the Philippines.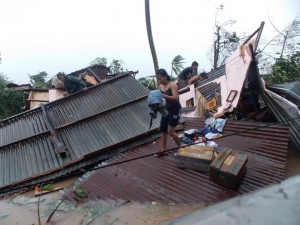 CDRC's Deputy Executive Director, Carlos Padolina, said that the Philippines' ranking was due to Typhoon Pablo (Bopha), the largest disaster that occurred in 2012. Pablo killed over 1,000 people in Southern Philippines.
Meanwhile, citing its own data, Padolina revealed that a total of 471 natural and human-induced disasters occurred in the Philippines in 2012. Compared to the 2011 data, 2012 posed a 9% increase in the number of disaster events recorded by CDRC.
CDRC monitors both natural and human-induced disasters that occur in the Philippines.
"Majority of these disasters were caused by flood with 143 incidents and 7.8 million people affected. The high number of flooding incidents can be attributed to the Southwest Monsoon which inundated much of Luzon in August of 2012," Padolina said. "However, the major cause of mortality rate last year was Tropical Cyclone," he added.
Padolina also pointed out the increasing trend in the number of affected people in the last five years. He said the strong typhoons that the Philippines experienced in recent years have contributed a lot to this trend.
Download CDRC's complete Philippine Disaster Report 2012 here.