Flooding is a natural occurrence in the town of Bayambang as it seats near the 25 square kilometer Poponto Swamp which connects the Tarlac and Agno rivers. The swamp retains water from the Tarlac River while Agno River is a spillway of the San Roque Dam. This literally makes Bayambang a catch basin as soon a heavy rain pours down in Pangasinan and its neighboring province, Tarlac.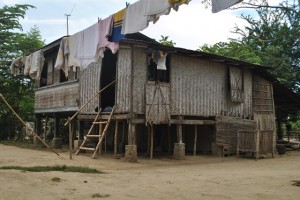 BAYAMBANG, Pangasinan – The road to Barangay Manambong Parte in this town is long and bumpy. The houses along the road are mostly made of lawanit and are built with bamboo stilts. The neighborhood here says they had to put stilts to keep them protected when floods come during the rainy season.
But the stilts were not enough to keep them safe when typhoons Ketsana (Ondoy) and Parma (Pepeng) struck this province in the third quarter of 2009. "Lagpas pa sa taas ng asawa ko yung tubig baha dito sa amin nung bagyong Pepeng (The floods during Typhoon Parma were taller than my husband)," said Erlinda Ringor, 40, whose husband is more than six feet tall. Floods regularly occur here once typhoons hit the town, Ringor said, and is enough reason for the local government to build an evacuation center where people can stay during such calamities.
Typhoons Ketsana and Parma, which hit this province only eight days apart, kept this town under water for three weeks and left the residents living
 in the evacuation center for that long. Government statistics show that the combined devastation brought about by the two typhoons reached up to P38.1 billion in total damages. The hardest hit was the agricultural sector which was reported to have around P26.6 billion in losses.
Kept under water for three weeks, Bayambang, an agricultural town which bears rice, corn and onions, literally lost its livelihood to Ketsana and Parma in late 2009. "Walang natira sa amin (There was nothing left)," was how Ringor pictured their plight three years ago.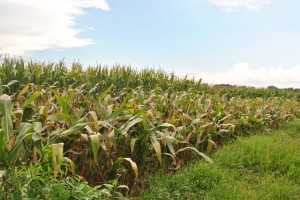 Relief
Immediate assistance from the local government and the private sector poured into this town during the calamity. Relief operations focused on basic necessities like food and toiletries. The relief were enough to see them through while the neighborhood was swamped in flood water, Erlinda said, but the bitter challenge was how to rise above the situation when the waters dry up. The days loomed when  there was nothing left of the crops they were just about to harvest before the typhoons came.
Agri Support
Manambong Parte was one of the baranggays in Pangasinan which was chosen as beneficiaries of the agricultural rehabilitation program of the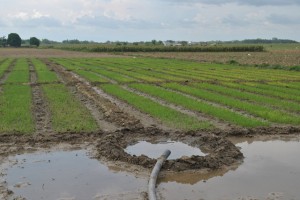 Citizens' Disaster Response Center in cooperation with its regional local partner, Alay Bayan, Inc. (ABI). "We surveyed the areas severely affected and provided shelter and non-food assistance to the affected families," said Eugene Britanico, an ABI officer.
Since the areas affected were basically dependent on agriculture as a means of livelihood, ABI's assistance became focused on farm implements such as seeds and fertilizers.  While immediate agricultural assistance was critical for survival, Britanico said it was more important for the neighboring communities to organize themselves to make sure that the relief given them would be fundamental for a new beginning. With this, a Disaster Preparedness Committee (DPC) was formed covering five barangays in Bayambang –  Manambong Parte, Amancosiling Sur, Sancagulis, San Gabriel 2, and Bical Sur. Although services were focused on these barangays, Britanico said the services offered by the DPC also spills over some neighboring areas.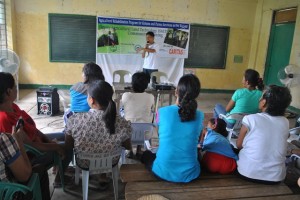 Training
Given that Bayambang is often visited by typhoons, the members of the DPC were given disaster preparedness training to lessen the risks during calamities. "Dati walang handa, walang preparasyon pag may sakuna (There was no one ready, there were no preparations before)," said 61-year old farmer Rolando Fernandez.
"Yan ang natutunan namin. Bago dumating ang baha alam namin kung ano ang gagawin. Alam namin kung kelan kami dapat pumunta sa matataas na lugar. Nung una, nung wala pang training, yung mga tao pag dumating ang baha wala na, natataranta na (That's what we learned. We knew what to do even before the typhoons came. When the people were not yet trained on disaster preparedness, we were in panic when the floods came)," Fernandez said.
Rising above
Carrying the vision of "helping people help themselves," ABI offered more than immediate relief to the people of Bayambang. Since affected areas were farmlands, ABI provided farm implements which helped the people rebuild their lives and regain their livelihood. Aside from giving out seeds and fertilizers, the DPC, in coordination with ABI, constructed waterways and provided tractors.
The farmers were also encouraged to organize themselves not just into a disaster preparedness team but more so as an organization that would cater to the agricultural needs of the member-barangays.  The DPC also serves as a cooperative which offers cheaper farm inputs and farm equipment rental. "Dito kami nag-aaral kung paano magtipid sa gastusin sa bukid (This is were we learn how to save on farm expenses)," Fernandez said.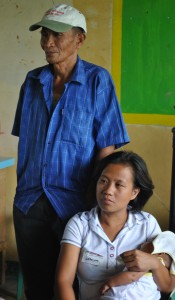 "Ang DPC ang nagiging katuwang ng mga magsasaka hindi lang kung may sakuna kundi pati sa patuloy nilang hanapbuhay (The DPC supports the farmers not just during calamities but also with their livelihood)," said Britanico.
To further the development of agriculture in the area, ABI also offers training and seminars which aim to equip farmers with new farming techniques. On May 25, a Sloping Agricultural Land Technology (SALT) Community Training was held in Manambong Parte with around 40 farmer participants. The training is part of the Agricultural Rehabilitation Program for Ketsana and Parma Survivors in Five Regions which include Region 1, Central Luzon, Southern Tagalog, Bicol and the National Capital Region. The project is being supported by Caritas Switzerland.
"Malaking tulong ang DPC kasi kaming mga mahirap wala kaming pang-finance sa aming sakahan. Nung dumating ang tulong ng ABI sa amin, parang nagkaron kami ng katuwang kasi ang patakaran, mababa ang renta kumpara sa labas (The DPC is a big help for farmers who do not have much to spend. With the support of ABI, we are able to get through because of cheaper rent on farm equipment)," Ringor said. ##