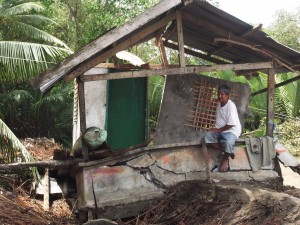 Two shallow low pressure areas (SLPA), spotted in Mindanao last week, affected 6, 183 families or 30,937 persons in six provinces in Regions IV-B, X, XI and XII. At least 10 people were reported killed.
Flashfloods were reported in Malaybalay and Lantapan, Bukidnon; Glan, Sarangani; Kidapawan City, Cotabato; and Kalamansig, Sultan Kudarat.
In Malaybalay City, Bukidnon, Barangays Cabangahan, Laguitas, San Jose, Bangkud, Aglayan, and Linabo were affected when the Bugkaon River overflowed on June 12. The Bugkaon Spillway was partially damaged, and twenty (20) hectares of cornfields were damaged. Barangay Bugcaon in Lantapan, Bukidnon was also affected by the overflow of the Bugkaon River.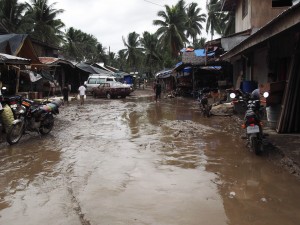 In Glan, Sarangani, Barangays Big Margus, Small Margus, Pangyan, Cross, Poblacion, Burias, Lago and Tango were severely affected by the flood, with two persons confirmed dead. About sixteen (16) houses were heavily damaged and four (4) were completely destroyed in Sitio Ostique, Bgry. Big Margus.  Numerous fishing boats were damaged and missing as well, and household wares  were swept away by the raging floods.  Those affected were mostly poor and indigent Moro and B'laan families. The strong winds and rushing water damaged crops like corn, rice, bananas and coconuts.  Landslides in the mountainous part affected farmers' crops as well. Initial assessed damage to agriculture and livestock was estimated at Php 1,846,121.75.
In Kidapawan City, Cotabato, Nursery Phase I, II and Lapu-lapu Street in Brgy. Poblacion were affected by the flashflood. The affected families fled to the evacuation center in Brgy. Poblacion.
Meantime, in Sultan Kudarat, Brgys. Obial, Sta. Clara, Hinalaan and Himulan in Kalamansig were inundated due to continuous heavy rains.
A landslides was also reported in Sitio Ladian, Brgy. Marilog, Davao City due to intermittent rains. Several families and structures were affected with one (1) reported dead.
Appeal for Support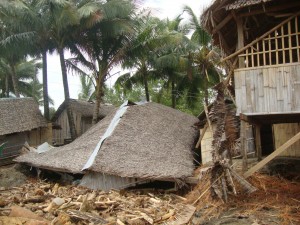 Clean water, bedding, kitchen wares and food are needed by the affected families.   Assistance of any kind is welcome.
For donations, contact:
Citizens' Disaster Response Center (CDRC)
72-A Times St., West Triangle Homes
Quezon City, Philippines
T/F: +632 9299822
Bank Account Details:
Peso Account
Account Name: Citizens' Disaster Response Center
Bank: Metrobank, Examiner Branch, Quezon City, Philippines
Account No. 636-3-63600741-3
Account Name: Citizens' Disaster Response Center
Bank: Metrobank, Examiner Branch, Quezon City, Philippines
Account No. 636-2-63600158-3
Swift Code: MBTCPHMM
OR
Disaster Response Center (DIRECT)
Purok 7, Ladol, Alabel, Sarangani Province
T:             +63912 912 5376
OR
Panday Bulig Relief and Rehabilitation Center
Tabang Mindanao Center
12th-22nd Streets, Nazareth
9000 Cagayan de Oro City, Philippines
T/F: +63 (88) 856 6413