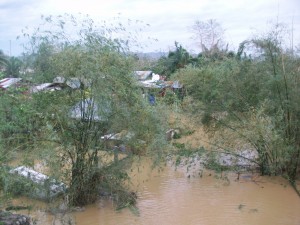 Tropical Storm Pepeng (Parma) made landfall Tuesday night over the northern part of Ilocos Norte, hitting Northern Luzon for the second time in three days, the Philippine weather bureau said.
Pepeng, which made its first landfall over Cagayan last Saturday, only worsened the damage it caused to the region when it made its second landfall. Pepeng remained stationary off South China Sea for the past two days because of its interaction with Typhoon Quedan.
The number of affected families by Pepeng has increased to 131,814 or 622,613 persons in Regions I, II, III, IV-A, V, NCR and CAR. Of this number, 10,830 families or 444,872 persons are staying inside 249 evacuation centers.
Last Saturday, Pepeng already caused widespread flooding and landslides that buried at least two families in the Northern Philippines, just barely a week after Tropical Storm Ondoy (Ketsana) battered Metro Manila and parts of Luzon.
At least 16 people already died, 13 were injured and 2 missing. In Benguet province, 10 people died in a landslide, including a 1-year-old boy.
Pepeng hit the Philippines just eight days after Ondoy caused the country's worst flooding in four decades, killing almost 300 people and affecting more than 700,000 families of 3.8 million persons. Pepeng also dropped more rain on Metro Manila that slowed the cleanup and made conditions worse.
The President has also declared a state of national calamity in the wake of the devastations wrought by these two weather conditions.
Appeal for assistance
An increasing number of families affected by the two recent typhoons are appealing for assistance from the Citizens' Disaster Response Center.
Donations for the affected families may be sent through the Citizens' Disaster Response Center at 72-A Times St., West Triangle Homes, Quezon City. Concerned individuals and donors can easily reach us at (632) 929-9822 / (632) 929-9820. Donations may also be sent through the following bank accounts:
Dollar Account:
Account Name:  Citizens' Disaster Response Center
Account Number:  2-63600158-3
Bank:  Metrobank, Examiner Branch
Bank Address: Corner Examiner and Quezon Avenue, West Triangle, Quezon City, Philippines
Swift Code: MBTCPHMM
Peso Account:
Account Name:  Citizens' Disaster Response Center
Account Number:  3-63600741-3
Bank:  Metrobank, Examiner Branch
Bank Address: Corner Examiner and Quezon Avenue, West Triangle, Quezon City, Philippines
References:
NDCC
PAGASA
The Associated Press
Philippine Daily Inquirer
The Philippine Star