"Together, we can save more lives in less time."
Two major players in disaster risk reduction and response launched the Philippine platform of the Asia Pacific Alliance for Disaster Management (A-PAD) Thursday, March 3, 2016 at Hotel Jen Manila.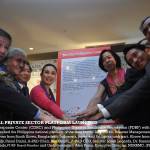 Citizens' Disaster Response Center (CDRC) and Philippine Disaster Resilience Foundation (PDRF) with the support of the Ministry of Foreign Affairs of the government of Japan, the National Disaster Risk Reduction and Management Council (NDRRMC), and Senator Loren Legarda, led the formation of A-PAD Philippines, a platform that provides a framework for collaboration, cooperation, and pooling of efforts.
Drawn from the bayanihan spirit, this national formation also outlines how resources can be shared between organizations, institutions, and governments in emergency response and in building a resilient nation.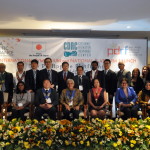 The launching was followed by a panel discussion of foreign disaster risk and reduction (DRR) practitioners and A-PAD country representatives from South Korea, Bangladesh, Indonesia, Japan, Sri Lanka, and the Philippines on best practices in engaging with local and national governments. They were joined by local DRR experts who discussed the challenges and opportunities for tripartite collaboration on disaster management.
Mr. Rene S. Meily, President of PDRF, the country's major private sector vehicle for disaster management, noted that the collaboration is important because it reminds us of why we exist.
"There is urgency for cooperation among private and public sectors as well as civil society organizations in the Philippines for disaster management before, during, and after a disaster", asserted Dr. Susana M. Balingit, Chairperson of CDRC.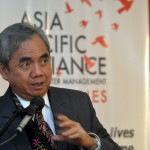 "The National Disaster Risk Reduction and Management Council (NDRRMC) recognizes the invaluable assistance extended by the private sector and civil society organizations in DRR that we have been conducting together in the past. We commend them in joining us in this endeavour to achieve safer and resilient communities," averred Executive Director Alexander Pama.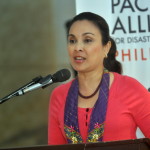 Senator Loren Legarda, on her part, emphasized the importance of moving towards resilience in the realm of DDR. "We just need to build resilience. We need to capacitate our local communities in identifying the risk, understanding the risk, so we reduce the risk. When we reduce the risk, relief, rehabilitation, response, and reconstruction will be reduced as well. And so human labor, physical resources, and fiscal resources can be utilized not simply for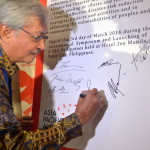 rebuilding and reconstruction all the time. I wish this attitude could reverberate in our community and in our country. It is everybody's business to know the risk and to build a culture of resilience."
Mr. Faisal Djalal, A-PAD Chairperson, welcomed the initiative. "This will further promote A-PAD's goals to partners in different countries in transferring knowledge and best practices to other national platforms," he said.#