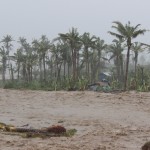 Reaching a maximum sustained winds of 215 kilometers per hour (kph) near the center and gustiness of up to 250 kph, Typhoon Ruby (international name Hagupit) is officially this year's strongest storm. It lashed through central Philippines with violent winds and heavy rains, causing floods, landslides, and destruction of infrastructure and crops.  Albay, Masbate, Catanduanes, Sorsogon and Camarines Sur provinces in Region V, Pilar in Capiz, Leyte and Samar in Region 8 and San Pablo City in Laguna in Region IV-A have been declared under a state of calamity.
Due to rough to very rough sea conditions over seaboards across Bicol, the Visayas and Mindanao, the Philippine Coast Guard suspended sea travel, resulting to over 1,953 passengers, 74 vessels, 429 rolling cargoes and four motor boats being stranded at several Philippine seaports. More than two hundred domestic and international flights were also cancelled by different airlines. Class and work suspensions were also declared.
Power outages are still being felt in 12 provinces of Regions 5, 7 and 8. Life-threatening winds, threats of storm surge, flash floods and landslides engendered mass evacuation of residents away from coastlines and flood- and landslide-prone areas. Seventeen (17) flooded areas were reported in Quezon Province, Laguna, Marinduque and Binan.
According to the National Disaster Risk Reduction and Management Council (NDRRMC), typhoon Ruby affects 694,277 families or 2,915,262. Of these, 186,694 families or 868,624 people are being served outside and inside 3,003 evacuation centers.  They are currently in evacuation shelters, schools, churches, gymnasiums, barangay and municipal halls and elevated areas in regions 3 (Central Luzon), 4-A (Calabarzon), 4-B (Mimaropa), 5 (Bicol), 6 (Western Visayas), 7 (Central Visayas), 8 (Eastern Visayas), CARAGA and the national Capital Region (NCR).  Some put up makeshift tents along highways, and even made ditches, caves and mausoleums as survival shelters at the height of the typhoon.
The NDRRMC reported 916 injured and confirmed 19 dead.  The Philippine National Red Cross pegged fatalities at 27, although the NDRRMC has yet to confirm this.
A total of P3,349,359,620 worth of damages in agriculture and infrastructure was reported by NDRRMC. The Department of Agriculture (DA) reported P1,913,555,097 worth of damages in agriculture in Southern Tagalog, MIMAROPA, Bicol, Western Visayas, and Eastern Visayas.  Damage to infrastructure was pegged at P1,435,804,523.
The extent of damages and number of casualties are still expected to swell as reports continue to come in.
Still reeling from the wrath of Super Typhoon Yolanda (international name Haiyan), affected communities once again suffer loss of lives, damage to property, water sources, farms and crops and livestock. Inside the evacuation centers, the children and the elderly face greater health risks because of overcrowding, lack of food, high probability of ingestion of unsafe drinking water, inadequate availability of water for hygiene, and lack of access to sanitation. Barely recovered from the trauma of past disasters, they face yet another rage of nature. Damages to infrastructure and livelihood make it incredibly difficult to recover.
Appeal for Support
Displaced families are in need of immediate relief (food and non-food items). Thousands of families are cramped in evacuation areas, encamped in caves and inside temporary shelters along highways and even inside ditches and mausoleums. With houses destroyed, people are expected to stay longer in evacuation centers. They need canned goods, rice, dried fish, mongo beans, laundry and bath soaps, toothpaste, toothbrush, sleeping mats, blankets, etc.
Drop your donations at the CDRC Office, 72-A Times St., West Triangle Homes, Quezon City.
For cash donations:
Peso Account:
Account Name: Citizens' Disaster Response Center
Bank: Metrobank, Examiner Branch, Quezon City, Philippines
Account No. 636-3-63600741-3
Dollar Account:
Account Name: Citizens' Disaster Response Center
Bank: Metrobank, Examiner Branch, Quezon City, Philippines
Account No. 636-2-63600158-3
Swift Code: MBTCPHMM