13

Nov 14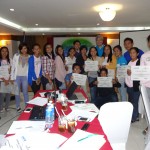 A writeshop on the baseline situation in UNICEF Disaster Risk Reduction (DRR) project sites was held at Crown Regency Hotel in Cebu City on Nov. 5-7, 2014. Citizens' Disaster Response Center (CDRC) and four other non-governmental organization (NGO) partners of UNICEF in its child-centered DRR project attended the said activity.
The writeshop's main objective was to develop the ability of the participants to analyze and interpret data as well as write a research report. "It is envisaged that… the implementing NGOs can come up with a well-founded community situational analysis which will serve as a solid basis for subsequent planning and target setting for DRR." According to DRR and Emergency Programme Specialist Leon Dominador Fajardo, a sound risk assessment is the basis of a successful disaster management.
During the workshop, the participants reported on the results of their participatory action research (PAR) in their project areas. The marriage of data gathered using the qualitative approach (interviews and focus group discussions) and quantitative data generated from complementary surveys gave the baseline situation of project sites in terms of "awareness, knowledge and practices vis-à-vis hazards and disaster risk reduction."
Other NGOs which participated in the writeshop were Balay Rehabilitation Center (BALAY), Community and Family Services International (CFSI), Center for Disaster Preparedness (CDP), and TABI Masbate. The Associates for Research and Community Empowerment Services (ARCES) facilitated the activity.