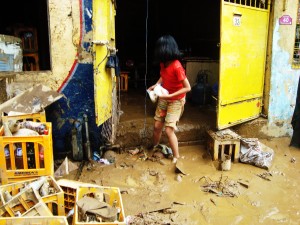 The number of families affected by Tropical Storm Ondoy (international name Ketsana) has already reached 1,872,036 persons or 319,881 families. Ondoy battered Metro Manila and parts of Luzon after it made landfall near the boundary of Aurora and Quezon Saturday morning, September 26. Metro Manila, Bulacan, Pampanga, Batangas, Laguna and Rizal were the most affected by the massive floods.
The National Disaster Coordinating Council reported that 240 people died in the National Capital Region (101), CAR (3), Region III (37), and Region IV-A (99). Meantime, at least 37 people remain missing.
In Metro Manila, over 100,000 people from over 900 barangays were evacuated after incessant rains caused heavy flooding in Manila, Marikina, Malabon, Muntinlupa, Makati, Pasay, Pasig, Valenzuela, San Juan and Quezon City. Flood water in some areas have already reached the second and third floors of buildings, forcing residents to seek refuge on the roof of their houses. A total of 50 road sections were also left impassable to vehicles due to raging flood waters, leaving several commuters stranded.
In Bulacan, 113 baranggays in Marilao, Meycuayan, San Miguel and Bocaue Sta Maria, Calumpit, Bustos and Norzagaray were heavily flooded. In Pampanga, 64 barangays in San Simon, Guagua, Masantol, Apalit, Lubao, Porac, Sto Tomas and San Fernando.
In Rizal, several barangays were flooded and 5,000 families were affected by rising floodwater. Many villages were not accessible to the rescue teams, leaving several families trapped on rooftops for hours.
Landslides occurred in Mt Province-Cagayan via Tabuk in CAR; Brgy. San Juan-Banyo, Arayat, Pampanga in Region III; Brgy. Bongalon, Sangay, Camarines Sur in Region V; Tagaytay-Taal Road, and Tagaytay-Talisay Road in Cavite; and Antipolo-Teresa Road and Sumulong Highway in Rizal.
The total cost of damage has already reached P108.9M. The damage to infrastructure has reached P108.7M; and to agriculture P212,537.
The Secretary of National Defense declared a State of National Calamity in the following areas in view of the extensive effects of Tropical Storm "Ondoy":
The whole of National Capital Region (NCR)

CAR: Mt. Province, Ifugao and Benguet

Region I: Pangasinan, La Union and Ilocos Sur

Region II: Isabela, Quirino and Nueva Vizcaya

Region III: Aurora, Nueva Ecija, Zambales, Pampanga, Bulacan, Tarlac and Bataan

Region IV-A: Cavite, Laguna, Batangas, Rizal, Quezon

Region IV-B: Mindoro (Occidental and Oriental) and Marinduque

Region V: Catanduanes, Camarines Norte and Camarines Sur
Table 1.  Affected Population by Tropical Storm ONDOY
Region

Number Affected

Brgys

Families

Persons

NCR

171

42,666

176,894

Region I

6

84

253

Region II

2

140

700

Region III

157

38,287

185,993

Region IV-A

569

235,769

1,493,772

Region IV-B

4

720

3,600

Region V

3

1,191

5,957

Region IX

15

541

2,186

Region XII

10

479

2,395

CAR

2

4

29

TOTAL

939

319,881

1,872,036
Source: NDCC
Appeal for assistance
Right after the typhoon, CDRC and its Regional Centers immediately conducted a Damages, Needs and Capacities Assessment (DNCA) in the affected areas.
Of the total number of affected families, the most vulnerable were carefully identified, taking into account the gravity of destruction, their economic capacity to cope, their accessibility to relief services conducted by other agencies, and their willingness to help themselves. On the basis of these criteria, 25,473 families have been short-listed as the most vulnerable families from among the total affected.
Table 2. Selected Areas for Relief Delivery Operation:
Region

Province/City

Number of Affected

Brgys

Families

NCR

Taguig City

Western Bicutan

320

Bagong Bayan

350

Manila City

Tondo Dumpsite

452

Hapilan

400

Parola

520

Baseco

600

Punta Sta Ana Brgy 905

330

Brgy 679 Paco

355

Brgy 836 Peter Paul Pandacan

400

Brgy 868/867 Pandacan

700

Dagupan Extension, Tondo

380

Brgy 173 Gagalangin, Tondo

300

Pasig City

Maybunga

500

Rosario

500

Sta. Lucia

500

Kalawaan

350

Pandacan

Dapo Ilang-ilang

325

Banana

300

Kahilom

250

Caloocan

Dagat-dagatan

500

Bagong Silang Tala

700

Brgy 35 Dagat-dagatan

500

Brgy 14 Dagat-dagatan

500

Brgy 28 Dagat-dagatan

350

Malabon

Panghulo/Tonsuya/Catmon

600

East Riverside Tulyahan

250

Valenzuela

Malinta/Marulas

400

Navotas

San Roque/Daan Hari/San Jose/Tanza/Tangos/NBBS

1,000

Marikina

Tumana River

1,000

San Juan

300

Paranaque

Sucat Creek and Lawa Side

1,785

Brgy Buli

120

Muntinlupa

Cupang

1,600

Alabang

200

Putatan

1,650

Poblacion

450

Tunsan

1,000

Advan

250

Triumph

200

III

Pampanga

Arayat

940

IV-A

Batangas

Ambulong, Tanuan

48

Aya, Talisay

51

Laguna

Malaban, Binan

507

Rizal

Sto Nino/Sta. Inez/San Andres/Daraitan/Mamuyao/Tandang Kutyo/Laiban, Tanay

1,025

San Jose, Antipolo

118

Quezon

Anoling/Banglos/Minahan Norte/Minahan Sur/Magsikap/San Marcelino/Sablang/Maligaya/ Umiray/Lumutan, Gen. Nakar

523

IV-B

Mindoro Occidental

Sablayan/Rizal/San Jose

328

Mindoro Oriental

Roxas/Mansalay/Bulalacao/ Victoria/San Teodoro/Naujan/Baco

746

Grand Total
25,473
The above-mentioned communities are among the worst affected by the typhoon and floods. Their houses were destroyed by the floods, and many of these areas are still difficult to access and therefore receive very little assistance if any. Immediate needs are food supply augmentation and other essential non-food items.
Needs include:
food provisions

water supply

medicines (for common colds and diarrhea)

clothes

bedding (mats, blankets, mosquito nets)

plastic sheet

kitchen utensils

sanitary napkins

construction materials (plywood, corrugated metal roof, etc)
Donations for the evacuees may be sent through the Citizens' Disaster Response Center at 72-A Times St., West Triangle Homes, Quezon City. Concerned individuals and donors can easily reach us at (632) 929-9822 / (632) 929-9820. Donations may also be sent through the following bank accounts:
Dollar Account
Account Name:  Citizens' Disaster Response Center
Account Number:  2-63600158-3
Bank:  Metrobank, Examiner Branch
Bank Address: Corner Examiner and Quezon Avenue, West Triangle, Quezon City, Philippines
Swift Code: MBTCPHMM
Peso Account
Account Name:  Citizens' Disaster Response Center
Account Number:  3-63600741-3
Bank:  Metrobank, Examiner Branch
Bank Address: Corner Examiner and Quezon Avenue, West Triangle, Quezon City, Philippines
References:
NDCC
PAGASA
Reports from:
Community Response for Enlightenment, Service and Transformation (CREST)
Alay Bayan Incorporated (ABI)
Southern Tagalog People's Response Center (STPRC)