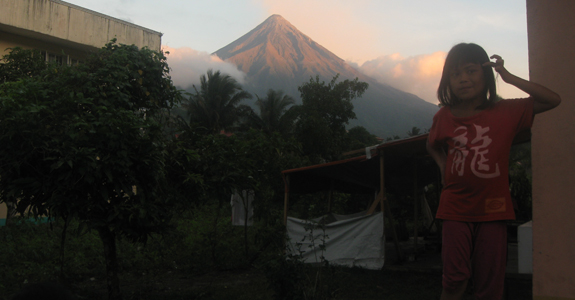 Rising to a height of two-and-a-half kilometers in the eastern Albay seacoast, Mayon Volcano easily dominates the province's landscape, dwarfing nearby Mt. Masaraga and Mt. Malinao, as well as the rugged terrain of the inlands. The volcano's conical shape can even be seen from the islands of Masbate and Catanduanes, some 80 kilometers offshore. So prominent is Mt. Mayon that it has become emblematic of Albay and the whole region, appearing in many official seals and devices of organizations based in Albay or of those tracing their roots from Bicol and its provinces.
The volcano's physical magnificence is commensurately manifested in the region's psyche; Mayon has become the subject of countless songs, tales and artist's imaginations. As if in adoration of the volcano's awesome beauty and terrible power, the people of Albay have obligingly settled at the foothills of the volcano –Mayon is at the exalted center, cyclically renewing the land with fertile volcanic soil.
Risk and displacement of population
Much of the population of Albay can be found in "orbit" around Mayon Volcano. Going counterclockwise, the territories of Ligao City, Guinobatan, Camalig, Daraga, Legazpi City, Sto. Domingo, Malilipot, and Tabaco City share an octonary boundary – the summit of Mayon. Twelve towns and cities of Albay are within 15 kilometers from the volcano summit, only a few of the province's municipalities is outside this distance.
Every time Mayon Volcano grows restive – which happens more frequently than any other volcano in the country – 32 barangays are in high danger of falling volcanic debris, flowing molten rock, and mudslides. This threatens the lives and livelihood of more than 10,000 families, who must all be evacuated to safer ground.
Beneath Mayon Volcano's peaceful façade is the infernal power of the Pacific Ring of Fire, the most seismically active part of the earth's crust. Mayon's most devastating eruption on record occurred in 1814, during which an entire town was destroyed. When Supertyphoon Reming (Durian) swept Bicol in 2006, around 1,200 people were buried when volcanic deposits combined with heavy rain cascaded in a sand-and-boulder avalanche.
To prevent catastrophes of this magnitude, the government mandates the mass evacuation of a pre-designated danger zone each time Mayon Volcano's activity escalates. The volcano has a five-level warning system, in which at Level 3 up to Level 5, forced evacuation is effected by government authorities.
Alert Level 1 is in place since 2006, after Mayon quieted from months of activity in that year. The alert status has not been rescinded since. Incandescent material near the crater can still be seen during the next three years. In July 2009, volcanologists raised the alert to Level 2, signaling the upward trend in volcanism that is continuing to this day.
A minor ash explosion prompted authorities to hoist Alert Level 3 on December 14. Increasing volcanic activity in the next few days was consistently monitored, whereby PHIVOLCS elevated the warning to Alert Level 4 beginning December 20. The warning means that a violent eruption is possible within days. All human activity is prohibited in danger zones 6-8 kilometers from the crater, the danger zone has now been cordoned off by the Philippine military.
Life in transit
As of this posting, the government has already evacuated 10,032 families or 47,563 persons to 29 evacuation camps in Albay. Now on their second week in evacuation, the displaced families are beginning to feel the burdens of a life in transit. Overcrowding and strains to privacy, health and sanitation problems, lack of food, and missed income opportunities are just a few of the evacuees' concerns.
Typically, 12 families or about 55 persons crowd in a schoolroom. There is barely enough living space in this 7 x 7-meter room. Evacuees are cramped at a density of one person in less than one square meter of space, way below the recommended 3.5 square meters of space per individual.
(Albay Gov. Joey Salceda conceded that this situation is not satisfactory, especially for married couples. He said they planned to set up at least two so-called conjugal rooms in every evacuation center to address this particular privacy concern.)
Evacuees generally sleep on plastic mats over concrete flooring. This makes these coldest days of the year much less bearable than normal, the evacuees said.
At the centers, families usually share a meal of rice, noodles, and canned goods provided by aid agencies. This monotonous diet was only once punctuated by a ration of fruits and other stuff on Christmas Day.
Around 40% of the evacuation centers have adequate water supply. The rest have to get water from handpumps in the host barangay or wait for deliveries from the fire department. Typically, there are one or two bathing facilities in a camp. Some evacuees have to wait in line as early as 1:00 am if they want a quick shower.
Available latrine seats are still not enough. At present, the ratio is 27 to 62 persons per toilet. The recommended ratio, according to planning manuals of local governments, is one toilet for every family or one for every six to ten persons.
Health problems now begin to surface in the evacuation camps. Colds and respiratory illnesses are common, aggravated by the cold weather. Incidents of conjunctivitis (sore eyes), which is a highly contagious infection, have been reported in at least one evacuation center.
Monitoring visit at the foothills of Mayon Volcano
Southward from Manila, the national highway links Albay to the rest of mainland Luzon. Passengers traveling by land to South Luzon, Visayas, or Mindanao are offered an uninterrupted view of the volcano almost every kilometer of the way, from the northern boundary of Albay with Camarines Sur to its southern border with Sorsogon.
The main highway connects the major population centers around the flanks of the volcano. This path threads through Ligao City, and then traverses southeastwards to Legazpi City, the political and commercial center of Albay. From Legazpi City, the highway then climbs northwards to Tabaco City, tracing the eastern seaboard of the province.
Majority of the affected population lives close to this highway arc, roughly equivalent to the southwest and southeast sections of the volcanic base. It is in these parts that most disaster relief efforts and media attention are focused. Not coincidentally, almost all souvenir photos of the volcano are mounted from locations tracing this route. It is also not surprising that at least three presidential hopefuls organized their relief sorties along this main path only.
The road less traveled
Away from media glare, 11% of the total number of evacuees is encamped in schools along Sabloyon Road at the northern side of Mayon. Sabloyon Road directly connects Ligao City and Tabaco City, completing the highway loop around the base of the volcano.
Nine evacuation centers are located along this road. These camps shelter residents from the affected communities in the two adjacent cities. Evacuation centers in barangay Amtic in Ligao, and in Bantayan, Buang, San Antonio, and the national high school in Tabaco host a total of more than 1,100 families or 5,362 men, women and children.
The evacuation camps here have not yet been visited by major aid agencies and national personalities. Only the local government has so far seen to the needs of the evacuees.  The politicians and the media do not seem to take much notice – after all, the view is so much more sensational on the other side, with Mt. Mayon spurting lava fountains and generally making a good show of a disastrous event.
"But we also have the same needs," said Buencesolita Quicay, a resident of Brgy. Buhian (Tabaco City) who evacuated to Bantayan Elementary School. "It seems to me that most of the attention is turned to evacuation centers in Daraga and Legazpi City only," she lamented.
Bringing relief to the least served
TABI and CDRC, supported by international partner Diakonie Katastrophenhilfe, organized relief services to evacuees along Sabloyon Road. "We are very thankful to have you," said a rejoicing Gloria Pontejos, who left her home in Brgy. Baligang in Ligao City and is now living at the shelter in Amtic. "We are totally dependent on food rations, as we had to leave our farms before harvest," she told visiting TABI staff members.
TABI packed rice, dried fish, beans, cooking oil, sardines, and sugar for the evacuees. The goods were distributed by TABI staff and volunteers on December 28, along the road which, both literally and figuratively, is less often traveled. Some 603 families from six evacuation centers received their relief packs.
The hundreds of schoolchildren in the evacuation centers were also given special attention by TABI, in order to ease their confinement to camp life. Volunteers facilitated games for the older children, while the preschoolers were gathered to a storytelling. With toothy smiles for TABI, each child received a pack of goodies.
More aid needed
Evacuees are appealing for more aid as they brace for more days encamped. Carbohydrate, protein, and oil sources are steadily in demand. In addition to the usual foodstuffs, some needs have still to be answered.
Matting would help combat the cold. Mosquito nets will prevent the spread of certain diseases. According to Mylene Casoco, who is an evacuee at San Antonio High School in Tabaco City, heavy blankets and sweaters would be very useful to them in these cold days of the year. The evacuees, especially the children, would also like hot beverages, she said.
"Toys and instructional kits for children can be important for psychosocial restoration," said Gloria Pontejos, who is daycare worker for the children of her fellow evacuees. The youth in the evacuation centers will also benefit from games and sports items, she added.
Over-the-counter medicine like analgesics, antipyretics, and antidiarrheals are needed. Multivitamin capsules and drops would also help alleviate the poor diet resulting from camp food.
As Mt. Mayon shows no signs of letting up, much relief work remains to be done to avoid a major humanitarian crisis. Hopefully, evacuees at all sides of the volcano will all be served equally this time.