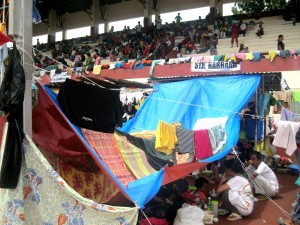 As of September 25, 2013, a total of 23,794 families or 118,819 persons from 14 barangays in Zamboanga City and 1 barangay in Zamboanga Sibugay have been affected by the on-going armed conflict between government troops and the Moro National Liberation Front (MNLF), the National Disaster Risk Reduction and Management Council (NDRRMC) said.
The fighting started last September 9 in the coastal villages of Zamboanga City between a splinter group of the MNLF and the Armed Forces of the Philippines (AFP). The clashes initially displaced 4,000 people, and more than 100 civilians were taken hostage. The week-long conflict has left over 137 people dead, more than 236 wounded, and 10,160 houses damaged due to a series of fire incidents.
The number of displaced persons has increased in the past days as fighting intensified and after government officials issued a forced evacuation order. The government has established 33 evacuation centers where 18,011 families or 99,193 persons are currently housed.
Spontaneous displacement sites were also set-up by families who could not reach the evacuation centers. A number of civilians were also reportedly trapped in affected coastal villages and are now experiencing food shortage.
The fighting has also spilled-over to Basilan province where 13,500 people were also reported displaced from Lamitan City and the municipalities of Tipo-Tipo, Tuburan and Akbar.
The exponential increase in the number of families at the evacuation centers is also posing serious challenges to food distribution, health and sanitation. The Jose Enriquez Sports Complex (Grandstand) in Zamboanga City alone is housing over 50,000 people. Many evacuation centers are overcrowded, lack water, health and sanitation facilities.
More photos here
Appeal for Support
Affected families are in need of food, water, sleeping kits, and hygiene kits. Drop your donations at the CDRC Office, 72-A Times St., West Triangle Homes, Quezon City.
For cash donations:
Peso Account:
Account Name: Citizens' Disaster Response Center
Bank: Metrobank, Examiner Branch, Quezon City, Philippines
Account No. 636-3-63600741-3
Dollar Account:
Account Name: Citizens' Disaster Response Center
Bank: Metrobank, Examiner Branch, Quezon City, Philippines
Account No. 636-2-63600158-3
Swift Code: MBTCPHMM