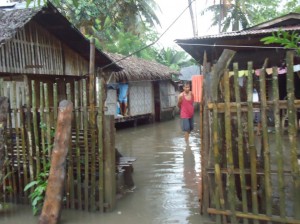 The non-stop heavy rains carried by Typhoon Ofel since Wednesday, October 24, 2012, swept away 30 houses located near and along the Bacong River in North Cotabato.
The houses were totally damaged when the rushing water swept away the shanties of the farmers in Sitio Lambusong in Bacong. A big crack in the mountain of Bacong became visible, making the residents living near the area all the more  vulnerable.
More than 600 families in barangay Bacong, Bituan, Banayal and Batang were affected when their farms, planted with corn, vegetables, rice and root crops, eroded due to heavy rain.
Two people died and one was reported missing in the neighboring barangay of Bacong because of the flashflood. Most roads are impassable due to the mud and water that softened the soil.
In General Santos City, 8 barangays and hundreds of families living in the low lying areas were affected. Roads and highways became waterways, making them impassable to vehicles. Around 250 families evacuated on October 25 when their houses were submerged in 2-4 feet water, but returned home when the water subsided in the night.
In Lamlahak, Lake Sebu, South Cotabato, around 95 families evacuated due to a land crack, constant soil erosion and subsided portion of their residential areas.

Prepared by:
DISASTER RESPONSE CENTER (DIRECT)
Purok 7, Ladol, Alabel, Sarangani Province
Philippines