The Citizens' Disaster Response Center (CDRC) will award the winners of the annual nationwide poster-making contest entitled "APOY, BAGYO, KALAMIDAD: DIBUHONG PAMBATA (ABKD) 2011" on the 27th year anniversary of CDRC on October 6 at the Bantayog ng mga Bayani Auditorium in Quezon City.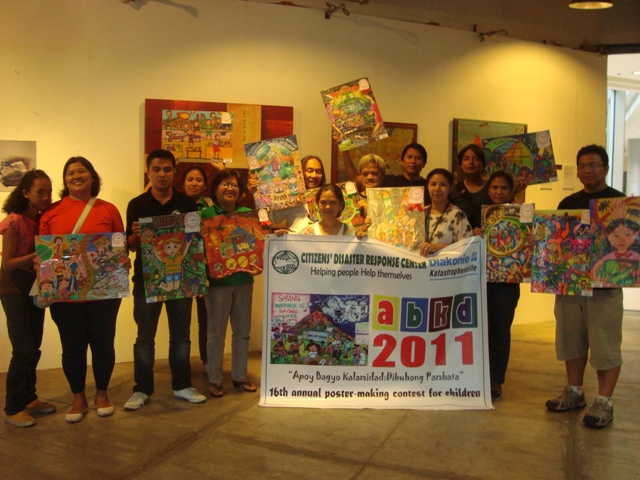 This year's major winners are Jericho G. Rivera of Little Jesus Learning Center in Laguna, Justine Nicole G. Hsueh of Philippine Tiong Se Academy in Manila, Abigail Kirsten Lee of Makati Hope Christian School in Mandaluyong City, and Kidanza A. Tallada of Village School of Park Woods in Quezon City.
Each of the four major winners and the eight finalists, children aged 7-12 years old, will receive a cash prize, certificate and a gift.
In its initial staging in 1986, ABKD has only attracted the participation of more than 50 children aged 7-12 years old. The years that followed showed a consistent rise in number of entries and participants. This year alone, more than 500 entries were submitted from all over the country, attracting the participation of both private and public schools.
This year's contest is being sponsored by the Foundation for the Philippine Environment and Diakonie Katastrophenhilfe.
The winning artworks will be featured in CDRC's 2012 disaster preparedness calendar and other advocacy materials.
Below is the complete list of winners and finalists:
CATEGORY A
GRAND PRIZE WINNERS:
JERICHO G. RIVERA
Little Jesus Learning Center
Canlubang, Calamba, Laguna
Floods – Typhoon
JUSTINE NICOLE G. HSUEH
Philippine Tsiong Se Academy
Tondo, Manila
Earthquake
FINALISTS:
ABIGAIL KARYL B. GUINTO
Divine Light Academy
Molino, Bacoor, Cavite
Volcanic Eruption
KAYE CHARLISE L. ALBERCA
Divine Light Academy
Molino, Bacoor, Cavite
Landslide
KARL PATRICK G. LIM
Philippine Tsiong Se Academy
Binondo, Manila
Fire
ANGEL BARACHIEL S. MUÑOZ
Baliwasan Central School
Zamboanga City
Environmental Destruction
CATEGORY B
GRAND PRIZE WINNERS:
ABIGAIL KIRSTEN LEE
Makati Hope Christian School
Mandaluyong City
Epidemic
KIDANZAC A. TALLADA
Village School of Park Woods
Payatas B, Quezon City
Armed Conflict
FINALISTS:
JILL CHLOE TOLENTINO
St. Stephen's High School
Sta. Cruz, Manila
Drought
KAYE D. ALIMENTO
Salvacion Elementary School
Davao Del Norte
Climate Change
ABIGAIL GRACE R. TAMAYO
Divine Light Academy
Molino, Bacoor, Cavite
Infestation
MARJORIE ANNE T. LIAO
Philippine Tsiong Se Academy
Binondo, Manila
Fishkill