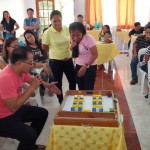 Feb. 27-28, 2015 – The Citizens' Disaster Response Center (CDRC) and UNICEF project staff successfully conducted a Training of Trainers on Child-Centered Disaster Risk Reduction and Management (TOT-CCDRRM) to faculty and Parents-Teachers Association (PTA) members of Dancalan and Arellano Elementary Schools and youth volunteers on Feb. 27-28 at the La Fortunata Functions in Catarman, Northern Samar. A total of 37 teachers, 18 PTA officers and members and four youth volunteers attended the said event.
UNICEF project staff Mr. Albert Lim led the opening prayer, singing of the National Anthem, introduction, expectations and ground rules setting and the formation of teams. Project Manager Ms. Ma. Teresa Quinawayan made the opening remarks and discussed the objectives of the activity. She also introduced CDRC and the CCDRRM project to the participants.
In his discussion about the Basic Concepts of DRRM, Provincial DRRMC Officer-in-Charge Mr. Amancio Unay stressed the importance of strengthening the capacities of communities through "education, training and drills, early warning and public awareness about hazards, strengthening organizations within the community and inter-agency coordination prior to, during and after a disaster and logistics support and stockpiling [of relief goods]." During his input on the Philippine Disaster Situation, he gave emphasis on the need for mitigation and preparedness measures due to the country's "vulnerability to natural hazards and catastrophic disturbances". His presentation on the province's disaster situation also yielded the same points. Northern Samar's high vulnerability to calamities calls for "an urgent need to prepare and organize the needed resources and implementation mechanisms… to protect properties, save lives, prevent/alleviate needless suffering and minimize damages during calamities."
Department of Interior and Local Government (DILG) Provincial Officer and DRRM Focal Person Mr. Roel Ortiz, on the other hand, discussed the salient features of RA 10121 in relation to Community-Based DRRM. According to him, RA 10121 stresses the importance of the participation of all sectors, especially the local community, in the planning and decision-making processes regarding DRRM.  Because the impact of hazards or disasters is most felt at the local level, it is only logical that local stakeholders take decisive part in DRRM.
DepEd DRR Focal Person Ms. Sonia Esteria discussed the DepEd Orders regarding DRR and its integration into the School Improvement Plan.
Project Development Officer IV/UNICEF Focal Person Ms. Lilia Varela discussed the Poverty Situation in Northern Samar and Children's Rights. There was an interesting exchange of discussion when some teachers lamented being caught in-between maintaining discipline and order in school and being accused of violating children's rights. Given the oversized classes and differing student factors (demographics, socio-economic status, attendance rate, educational proficiency and disability levels, etc.), they ask for realistic expectations of what educators like them could really achieve in dealing with challenging behavior in the classroom.
UNICEF program staff members subsequently discussed Community Risk Assessment and Tools where the participants became fully aware of the hazards found within and at the vicinity of their schools. Aside from identifying the risks, they also pinpointed the strengths or resources in their schools which they can use in the event of an emergency. They prepared evacuation maps where specific evacuation procedures such as routes and exits, assembly points, evacuation areas and accounting for students were detailed. Due emphasis was also given in the identification of students with special needs. This is to ensure that they are prioritized starting from the safe room setting, drills, to the actual evacuation when deemed necessary.
Other topics discussed were Early Warning System and Practical Information about Earthquake. Earthquake drills were a first for most participants and a second since 2012 for the others. Inclusion of persons with disability was integrated in the topics.
Action planning was the last activity of the training. This aims to strengthen capacities in disaster risk reduction and preparedness activities in the participants' respective schools.
Participant evaluation results showed positive feedback on the content and methodologies used in the training. ###