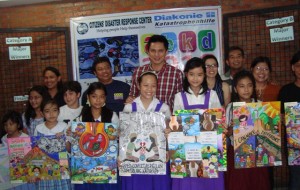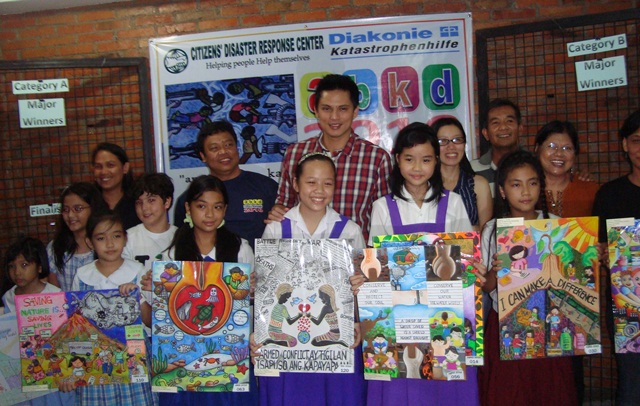 The Citizens' Disaster Response Center (CDRC) has awarded the winners of the annual nationwide poster-making contest entitled "APOY, BAGYO, KALAMIDAD: DIBUHONG PAMBATA (ABKD) 2010".
Each of the twelve finalists, children aged 7-12 years old, received a cash prize, plaque and a gift during the awarding ceremony at the Citizens' Disaster Response Center Conference Room last Friday, October 8.
Major prizes for Category A (7-9 years old) went to Abigail Grace R. Tamayo of Divine Light Academy in Cavite, and Kathya Marea M. Palles of Little Jesus Learning Center in Laguna.
For Category B (10-12 years old), the major winners were: Trisha Co Reyes of St. Stephen's High School in Manila, and Lea Anne R. Rulloda of Manila Science High School in Manila
Since 1996, ABKD has served as a venue for children to show their creativity and artistic talents, as well as express their views and concerns on disaster-related issues.
In its initial staging, ABKD has only attracted the participation of more than 50 children aged 7-12 years old. The years that followed showed a consistent rise in number of entries and participants. This year alone, more than 500 entries were submitted from all over the country, attracting the participation of both private and public schools.
This year's contest was sponsored by Diakonisches Werk, and Sara Lee Philippines.
The winning artworks will be featured in CDRC's 2011 disaster preparedness calendar, planner and other advocacy materials.
***
CATEGORY  A (7-9 YEARS OLD)
MAJOR WINNERS:
Abigail Grace R. Tamayo, Divine Light Academy, Cavite (Environmental Destruction)
Kathya Marea M. Palles, Little Jesus Learning Center, Laguna (Volcanic Eruption)
FINALISTS:
Zarah Juliya C. Tabacon, Celestial Village Academy, Marikina (Typhoon/Flood)
Maverick Peter Legaspi, Reedley International School, Quezon City (Fire)
Kajem W. Kitma, Baguio Pines Family Learning Center, Baguio City (Landslides/Trashslides)
Eleanor Iskra Castellon, Immaculate Concepcion Parish School, Quezon City (Earthquake)
***
CATEGORY B (10-12 YEARS OLD)
MAJOR WINNERS:
Trisha Co Reyes, St. Stephen's Highschool, Manila (Climate Change)
Lea Anne R. Rulloda, Manila Science High School, Manila (Fishkill)
FINALISTS:
Kaye D. Alimento, Salvacion Elementary School, Davao del Norte (Epidemic)
Brigette V. Ayson, Betty Go-Belmonte Elementary School, Quezon City (Climate Change)
Jamia Mei Tolentino, St. Stephen's High School, Valenzuela City, (War)
Trisha Co Reyes, St. Stephen's High School, Valenzuela City (Drought)
***