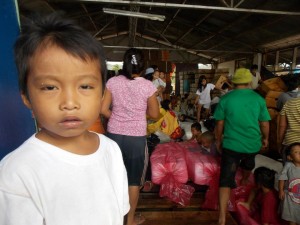 The Citizens' Disaster Response Center, through the support of its partners and Regional Centers, is providing relief assistance to Typhoon Pablo-affected areas in Mindanao.
Pablo is the 16th storm to ravage the Philippines this year, bringing rain and strong winds that affected more than 5 million people.
CDRC's relief delivery operations are concentrated in Compostela Valley, Davao Oriental, Agusan de Sur, Surigao del Sur, Misamis Oriental and Bukidnon — the hardest hit areas in Mindanao.
CDRC's relief activities are in coordination with its Regional Centers in the project areas: Mindanao Interfaith Services Foundation, Inc. (MISFI), Bread for Emergency, Assistance and Development (BREAD), and Panday Bulig (PB); and its major donors Mercy Relief Singapore, Civic Force Japan, Peace Winds Japan, and Diakonie Katastrophenhilfe.
Typhoon Pablo came after tropical storm Sendong (Washi) hit Mindanao in December last year, killing more than 1,200 and leaving hundreds of thousands homeless.
The death toll from Pablo rose to 714 Monday, December 10, mostly due to flash floods and mudslides.
Until now, 25,812 families or 116,404 persons are still staying inside 134 evacuation centers.