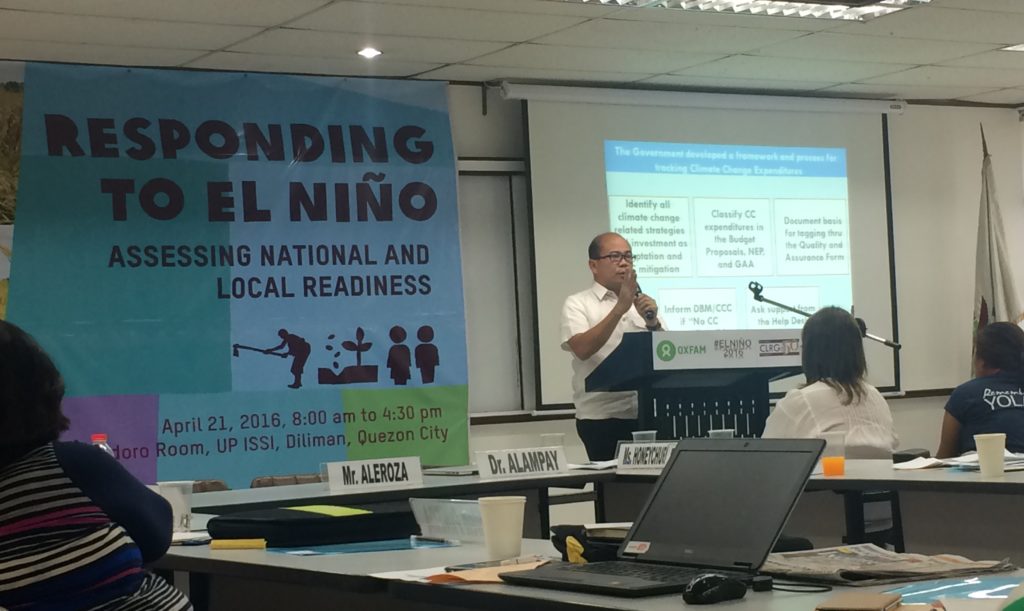 Last 21 April 2016, CDRC attended a forum and workshop to assess national and local readiness for the El Nino 2016 event. Other participants included stakeholders from different sectors of society: representatives of national government agencies (NGAs), members of non-government organizations (NGOs) and the academe, and leaders of people's organizations (POs).
National Anti-Poverty Commission (NCAP) vice-chairman Ruperto Aleroza gave the keynote address. He presented four recommendations to the assembly, namely that (a) all concerned government agencies must consider the basic sectors; (b) LGUs must design climate-smart programs; (c) communities must be educated about the El Nino; and (d) the government should offer a subsidy on corp insurance.
Farmers and fisherfolk from Samar, Leyte, and North Cotabato gave short testimonials about their plight as the drought continues to ravage their communities. These were followed by an input by PAGASA Climate Services and a presentation of the Roadmap to Address the Impacts of El Nino (RAIN) by the National Economic and Development Authority (NEDA). Representatives of the Bureau of Fisheries and Aquatic Resources (BFAR), Department of Budget Management (DBM), and the Department of Social Welfare and Development (DSWD) were allowed to give responses to questions raised by the audience.
After the forum, a workshop was conducted to determine and develop short-term intervention plans and policy recommendations. Key priority issues were identified, which included urgent relief and humanitarian aid operations, difficulties in accessing calamity funds and the budget allocated by Task Force El Nino, and insufficient coordination between line agencies, NGOs, LGUs, and POs.
The workshop participants agreed to endorse to the relevant NGAs the action plans that they formulated for the next 8 months. For food and humanitarian response, the following were suggested: distribution of rice and health kits, financial assistance (through cash for work schemes), psychosocial debriefing, distribution of work animals and livestock, among others. Long-term intervention included water safety and management, market support, organic and sustainable farming systems, and community-based disaster preparedness.
Among the policy recommendations were the following: that processes related to access of government funds for disasters be simplified; coordination be strengthened and made more efficient; and training and enabling LGUs to formulate disaster management plans.
The workshop was organized by Oxfam in the Philippines and the UP National College of Public Administration and Governance (NCPAG). It was held at University of the Philippines Institute of Small Scale Industries.