The members of the 17-strong Citizens' Disaster Response Network (CDRN), vowed to step-up its efforts on Climate Change Adaptation within its disaster risk reduction work.
The network held its 10th General Assembly last May 27-29, 2013 at the El Madero Resort in Batangas. One of the resolutions passed by the assembly was to integrate the impact of climate change to its comprehensive disaster risk reduction strategies.
The Citizens' Disaster Response Center (CDRC), the secretariat of the network, has already made climate change a part of its approach to the disaster management process in the past five (5) years.
For the next five (5) years however, CDRC is poised to aggressively cascade this to the whole network. It shall specifically develop network-wide disaster risk reduction projects taking into consideration the effects of climate change on communities at risk.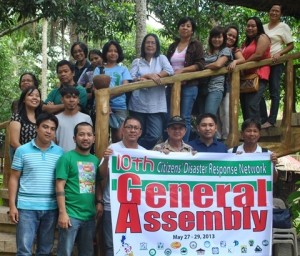 The assembly was attended by the Executive Directors and Senior Officers of the member-organizations of the network who pledged commitment to integrate DRR and CCA.
The assembly also elected new officers of the CDRN National Executive Committee. The Executive Director of the Mindanao Interfaith Services Foundation, Inc., Ms. Percinita Sanchez, is the new Chairperson. Sanchez succeeds Mr. Jimmy Khayog, who served the network since 2010.
One of the initial projects that the network plans to implement is reforestation. MISFI has already started its "3 for a Tree" campaign in Typhoon Pablo/Bopha-affected areas in Mindanao. The other network members plan to replicate this project in their respective areas as well.
Also elected during the General Assembly were Jazmin Jerusalem (LCDE) as Vice Chairperson, Lourdes Louella Escandor (CDRC) as Secretary General, Maricris Binas (TABI) as Deputy Secretary General, Armie Almero (PCDR) as Treasurer, and Lorena Villareal (ABI) as Auditor.
Sanchez said during her acceptance speech that reducing risk also means adapting to the changing climate. She added that resilience to disasters is not just about anticipating and responding to sudden-onset hazards, but also mitigating impacts of slow-onset hazards caused by climate change. #