More than a month after Typhoon Pablo/Bopha ravaged Mindanao, the people are still struggling to get back on their feet.
Pablo, the 16th storm to enter the Philippines in 2012, made landfall on the eastern coast of Mindanao on December 4th. It brought rain and strong winds that toppled trees and power lines, destroyed houses and roads, and caused floods and mudslides that forced more than 300,000 to seek refuge in evacuation centers.
The National Disaster Risk Reduction and Management Council reported that the total number of population still staying inside evacuation centers is 3,011 families or 13,940 persons. These families are still in need of food assistance.
Meanwhile, many of the affected families have returned to their communities. They are now busy rebuilding their homes, and doing the clearing operations to prepare their farm lands for replanting.
They are in need of shelter materials like nails, wood and iron sheets to repair their houses. Chainsaws and other heavy equipment are also needed to clear farm lands of fallen trees.
The community people are also trying to put up temporary structures for their destroyed schools. They have also organized a community kitchen to help feed the workers and volunteers doing repairs and clearing operations.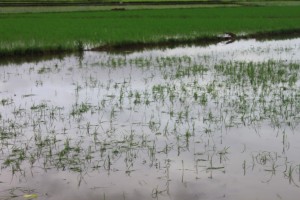 CDRC and its Regional Centers (MISFI, BREAD and PB), through the support of its donors, are also providing assistance through cash-for-work or food-for-work.
Funds and materials are also being gathered for the seeds dispersal campaign dubbed as "Seeds for Life".
The death toll from Pablo, as of last count, was at 1,067, mostly due to flash floods and mudslides. At least 834 people remain missing.
Most of the casualties were from the town of New Bataan in Compostela Valley, and the towns of Cateel, Baganga and Boston in Davao Oriental. These areas were severely affected by flash floods, mudslides, and strong winds.
The NDRRMC said that the total number of population affected in 34 provinces of Regions IV-B, VI, VII, VIII, IX, X, XI, XII, CARAGA and ARMM was 711,682 families or 6,243,998 persons. This figure covered 3,064 barangays, 318 municipalities, and 40 cities.