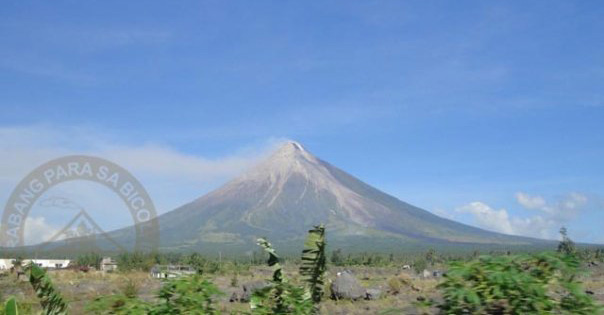 Lava and red-hot volcanic fragments rolled some 4 kilometers down the slopes of Mayon Volcano, visible at night to Albay residents in yet another terrifying display of the volcano's beauty and destructive power. The pyroclastic flow was preceded by a minor ash explosion in the morning of December 14, followed by several other small explosions in the same day.
Molten rock and glowing lava fragments continue to issue from the volcano summit as of this writing. Steam emissions reaching 200 meters high was observed in the past 24 hours, drifting towards the west and southwest of the volcano. Ash explosions in the last two days have showered parts of Camalig, Guinobatan, and Ligao City with light ashfall. Data from PHIVOLCS also indicated sulfur dioxide emission levels at 750 tons per day, way above the normal rate.
Authorities raised the alert status of the volcano to Alert Level 3, warning that a hazardous eruption may occur within weeks. Areas within 6 kilometers of the crater and an extended zone in the direction of the main gully are in danger of volcanic flows, which may occur during sudden explosions. By December 15, the government has ordered the evacuation of these areas, encompassing parts of Daraga, Camalig, Guinobatan, Malilipot, and Sto. Domingo municipalities as well as portions of Legazpi City, Tabaco City, and Ligao City.
Close to 30,000 residents have been evacuated to 17 pre-designated evacuation centers around Albay province. Below is the partial evacuation report issued by the Albay Public Safety and Emergency Management Office (APSEMO).
Evacuation report as of 12 noon, December 16, 2009 (Source: APSEMO)
City/Municipality
Barangay
Population
Evacuation Center
Families
Persons
Camalig
Quirangay
633
2,747
Bariw Elem. Sch.
Sua
331
1,429
Baligang Elem. Sch.
Cabangan
152
687
Cabangan Elem. Sch.
Tumpa
294
1,353
Baligang Elem. Sch.
Salugan
170
754
Camalig Natl. Highschool
Anoling
221
916
FVR-Tagaytay Reloc. Site
Subtotal
6
1,801
7,886
Daraga
Bañadero
489
1,823
Anislag Reloc. Site
Alcala
360
1,441
Daraga North Central Sch.
Matnog
256
1,500
Anislag Reloc. Site
3
217
868
Daraga Highschool
Subtotal
1,322
5,632
Legazpi City
Mabinit
354
1,840
San Roque Elem. Sch.
Matanag
406
2,111
Albay Central Sch.
Buyuan
838
4,357
Bagumbayan Central Sch.
Bonga
744
3,868
Gogon Central Sch.
Padang
81
421
Albay Central Sch.
Subtotal
5
2,423
12,597
Tabaco City
Magapo
184
912
San Antonio Elem. Sch.
Buang
105
542
Mayon Elem. Sch.
Subtotal
2
289
1,454
Malilipot
Calbayog
545
2,406
San Jose Elem. Sch.
San Roque
34
125
Malilipot Central Sch.
Canaway
134
620
Malilipot Central Sch.
Subtotal
3
713
3,151
Sto. Domingo
Lidong
11
41
Bical Natl. Highschool
Subtotal
1
11
41
TOTAL
20
6,559
30,761

Although the threat to human lives seems to have been averted due to preemptive evacuation, economic hardships will likely affect the thousands of farming families who cultivate the fertile land along the slopes of Mt. Mayon. Most vegetable production in the province is located in this area. Many farmers here are now forced to gather their produce ahead of the harvest season to avoid further losses. In other farms, immature crops are exposed to damages from volcanic debris as volcanic activity escalates.
The volcano has been growing restive for the past several months. Increased volcanic activity was observed in July this year, prompting PHIVOLCS to raise the alert status to Level 2. Mayon is the most active volcano in the country, having erupted close to 50 times in the past 400 years.
Appeal for assistance:
Donations for the evacuees may be sent through TABI (Tarabang Para sa Bicol, Inc.) at 49 First Park Subdivision, Brgy. Sagpon, Daraga, Albay 4501. Cash donations may also be deposited to the following account:
Bank Name: Banco De Oro – Legaspi Branch
Name of Account: TARABANG PARA SA BICOL, INC.
Account #: 1810089873
For more information please contact:
MARICRIS A. BIÑAS
TABI Executive Director
Mobile#: 0929 702 6602
Telefax: (052) 483 2453
Email: tarabang@yahoo.com
URL: http://tarabangbicol.multiply.com / http://www.cdrc-phil.com/tabi/