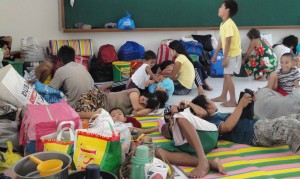 The number of families from across four municipalities and two cities in Albay Province living inside more than 20 evacuation centers (12 of which are elementary schools and 3 high schools) has increased to about 8,000 after a weeklong of forced evacuation around the 8-kilometer extended danger zone of the active Mayon Volcano.
In Gogon Central School in Legazpi City, 20-25 families share one regular-sized classroom. Bigger classrooms accommodate as many as 80 families. Most families said they have not received the promised 5-kilo rice pack from the government. The first ones to receive rations complained of inadequate food supplies, noting that most of them have big families.
On Friday, December 18, 2009, evacuees in Baligang Elementary School in Camalig, Albay, where a total of 625 families from Barangay Sua (331 families) and Barangay Tumpa (294 families) are housed, revealed that no other food ration reached them after the four kilos they received on Tuesday.
A report from the San Jose Elementary School official confirmed the need for adequate water supply for the 500 families (2,288 persons) of Barangay Calbayog, Malilipot.
Travesia Elementary School occupants are luckier, having been allowed use of the newly constructed school building with adequate water facilities. A television set also provides entertainment, especially to children.
Before the 24-hour curfew was imposed, some residents, mostly male, braved entering the danger zones to collect supplies lacking in evacuation centers such as firewood, rootcrops, and vegetables.  Due to inadequate water supply and toilets, the women also tried going back to their homes during the day for laundry and personal hygiene.
Mayon Volcano continues to show increased volcanic activity, which may lead to a major eruption in two-week time according to volcano experts. Local officials are counting weeks before Mayon foothills are declared habitable again.
TABI staffs together with its social work interns regularly make rounds in the evacuation center to closely monitor the situation. TABI has active village level Disaster Preparedness Committees, Community Health Workers, and Women & Children Committees in the affected communities having been engaged in relief delivery, organizing and advocacy, agro-forestry and livelihood activities in the foothill villages since the Mayon Volcano eruption in 1984.
TABI is now accepting donations for the evacuees. Immediate needs are food supply augmentation and other essential non-food items like mats, blankets, mosquito nets and hygiene kits (sanitary napkins, toothpaste, bath soap, face towel).