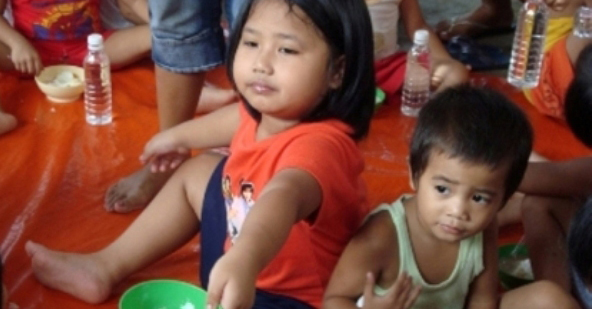 Two weeks worth of trash was piled high on the street next to the covered basketball court at Barangay Tatalon in Quezon City, where the Citizen's Disaster Response Center held a comprehensive relief program last October 11.
The barangay is next to a creek, which soon overflowed as typhoon Ondoy dumped torrents of rain on Metro Manila and its surrounding provinces.
The water reached as high as two storeys in Brgy. Tatalon. One house was swept away, while another was razed by fire.
While cleanup has begun, many residents still remain in need of immediate relief and of therapy to help them cope with their ordeal.
Together with staff from the Philippine Network of Food Security Programmes (PNFSP), Management Advancement Systems Association (MASAI), and Integrative Medicine for Alternative Healthcare Systems (INAM), and volunteers from the SyCip Gorres Velayo & Co. and Manila Times School of Journalism, CDRC set up four areas to facilitate relief delivery, feeding, acupuncture and psychosocial therapy through games and visual arts.
CDRC was able to help 500 families instead of its initial target of 350. The relief goods consisted of 10 kilos of rice, one kilo of mung beans, one-half kilo of dried fish, one blanket, one plastic sheet, six cans of sardines and one liter of water.
"Maraming salamat po kasi malaking tulong sa amin, (Thank you very much, this is a big help to us.)" said Tatalon resident Merlita Villasanta.
Meanwhile, children were fed porridge or rice congee with chicken, carrots, onions and garlic. After the feeding, the children were split into groups for psychosocial therapy.
"The children looked happy, but were serious and quiet during the drawing session. They started opening up one by one as the session progressed," said Al Quinn Tesorero, one of the volunteers. "We asked the reason for their drawings and most of them answered that their community became messy and the houses were left dilapidated after the flood."
"They immediately become anxious whenever it starts to rain," Al Quinn added.
In the acupuncture section, acupuncturists put needles on three pressure points in the ear to relieve stress, boost the immune system, and stimulate the kidney.
"Kasi alam natin tong mga tao victims ng flood, so definitely stressed at traumatized. Pag stress at trauma victims, kidney ang affected area, (The people were stressed out and traumatized from their experience. Usually the kidney is the affected area.)" said INAM volunteer Leny Lopez
Tatalon residents who tried acupuncture felt relaxed. "Parang natanggal po yung sakit ko sa ulo tapos yung sipon ko nawala. Kasi kanina hindi ako makahinga, (My headache and sniffles were gone)" said Maria Elena Mateo.
Before the delivery of relief goods, CDRC Advocacy Officer Dakila Aquino gave a short lecture on disaster-prevention tips.
For volunteer Mark Jerson Pulohanan from professional services firm SGV & Co., the relief program "forges unity among people, shows generosity of people to extend help to others. [It's also] a way to show people affected by calamities that they are not alone."
CDRC advocates community-based disaster management. Unlike traditional relief operations that merely dole out goods, CDRC forms teams in communities to help in rehabilitation after disasters and to prepare for coming calamities.
The comprehensive relief delivery program conducted at Brgy. Tatalon is only one of the many relief programs that CDCR and it partners will continue to deliver to affected communities.