The Philippines is now suffering from drought caused by El Nino, a phenomenon brought about by the warming of the Pacific Ocean, which is likely to last up to June 2010.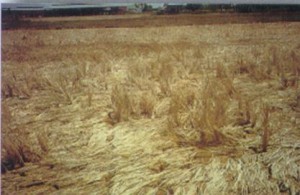 photo taken from www.pcarrd.dost.gov.ph
Water in Magat dams in Isabela are now 20 meters below normal level, according to Dr. Susan Espinueva, hydrologist from PAGASA ; in Capiz, El nino has already caused drought from August to December last year with rainfall below normal; La Trinidad, Benguet, likewise, is experiencing draught ; and in Negros Occidental, 7,000 hectares of rice farms and 343 hectares of corn farms are already drying up.
Other areas which may experience similar effects due to high vulnerability to El Nino are Ilocos Sur, Ilocos Norte, La Union, Pangasinan, Cagayan, Aurora, Bataan, Bulacan, Nueva Ecija, Pampanga, Tarlac, Zambales, Cavite, Rizal, Occidental Mindoro, Palawan, Iloilo, Misamis Oriental, Zamboanga City, Sarangani and South Cotabato, based on a statement released by Department of Agriculture on February 2.
Though PAGASA predicts this El nino to be moderate, a study by the Department of Agriculture estimates a total of 453,204 hectares of palay farms, 227,843 hectares of corn farms and 14,160 hectares in the fisheries sector may be affected.
Production losses could reach from P8.09 billion (mild El nino) to P20.46 billion (severe El nino).
Measures to curb the effects of El Nino
The staggering effect of El Nino in agriculture and fisheries sector has been felt in the past 20 years. In an effort to reduce the impact this year the Department of Agriculture and its bureaus channelled P1.7-billion to intervention program.
P570 million of this amount will go to the palay sector, P613.7 million for the corn sector; P411 million for the high value commercial crops (HVCC) subsector; and P117.4 million for fisheries, agriculture secretary Bernie Fondevilla noted.
"Such measures include scheduling the release of irrigation diversion equipment for the Angat Maasim River Irrigation System (AMRIIS), which will be implemented by the DA and NIA, and the linking of canals from the Upper Pampanga River Integrated Irrigation System (UPRIIS) to the Angat-Maasim Dam covering 6,000 hectares in Bulacan, to avoid delays in the planting season," he said.
Cloud seeding operations in drought areas has also started, he added.
Nongovernment organizations like CDRC are also doing their part to reduce the negative effects of El nino and other natural and human-induced disasters through information dissemination, forum and trainings on Disater Preparedness and Mitigation, Community-based Disaster Management and Sustainable Agriculture. Relief Delivery Operations are also being conducted to drought stricken areas.
References:
http://newsinfo.inquirer.net
http://kidlat.pagasa.dost.gov.ph/cab/ensoadvi.htm
http://www.da.gov.ph/newindex2.php?pass=News_events/2010/feb/feb02_2010a.html
http://www.veritas846.ph/Veritas_Balita2.html
http://www.gov.ph/index2.php?option=com_content&do_pdf=1&id=2002892