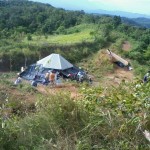 Last August 28, the whole province of Abra was placed under a state of calamity after Typhoon Ineng (international name Goni) ravaged through Northern Luzon and destroyed farm and agricultural lands, infrastructure, crops and households. Damages are estimated to be at Php667 million. More than 88,000 individuals were affected. One has been confirmed dead and another one is missing.
One of the affected areas is Barangay Tamac in the municipality of Villaviciosa where the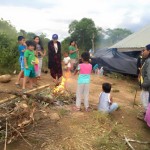 whole populace evacuated because of an impending threat of landslide. A total of 265 families or more than  1,300 individuals were affected, 67 of which are elderly while 25 are infants. Some 108 elementary school students were also affected. The evacuation sites are located along the boundary of Barangay Tamac and Sibsibbu and along the boundary of Tamac and municipality of Luba.
As the residents hurriedly evacuated, many were not able to bring along much needed resources such as food. Many students were also not able to bring along their school materials. Delivery of relief goods is difficult as roads leading to evacuation sites were blocked by landslides. Their goods may be delivered by either airlifting or via a two-hour hike. Because of these, supplies in the evacuation site are scarce.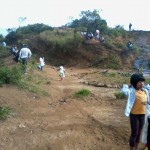 Tulong Katribu is now accepting donations in cash or in kind for the victims of Typhoon Ineng in the province of Abra. They are now in need of food, water, clothes, medicines, sleeping mats, raincoats, and laundry and bath soaps. The students also need school supplies such as bags, pens or pencils and notebooks.
In line with this, we are asking you to help in any way possible our brothers and sisters affected by Typhoon Ineng. We hope that you can be a part of this endeavor.
You may drop your donations at the CDRC Office, 72-A Times St., West Triangle Homes, Quezon City. For cash donations, you may deposit directly to the following accounts:
Peso Account:
Account Name: Citizens' Disaster Response Center
Bank: Metrobank, Examiner Branch, Quezon City, Philippines
Account No. 636-3-63600741-3
Dollar Account:
Account Name: Citizens' Disaster Response Center
Bank: Metrobank, Examiner Branch, Quezon City, Philippines
Account No. 636-2-63600158-3
Swift Code: MBTCPHMM
Reference:
Jhade Patricio
Tulong Katribu Coordinator
Mobile Number: 09063114489